Dark brown opaque roller blind URB5109
Product Detail
OVERVIEW
PACKING & SHIPPING
QUALITY ASSURANCE & WARRANTY
This Dark brown opaque roller blind URB5109 fabric is one of the most popular models in the collection of coated blackout roller blinds. This roller blind fabric is 100% polyester with acrylic coating. The maximum width is 3.00m, it's the double-side roller blinds fabric for roller blinds. A dark brown opaque roller blind can be matched with sunscreen roller blinds to make double layer roller blinds on one window.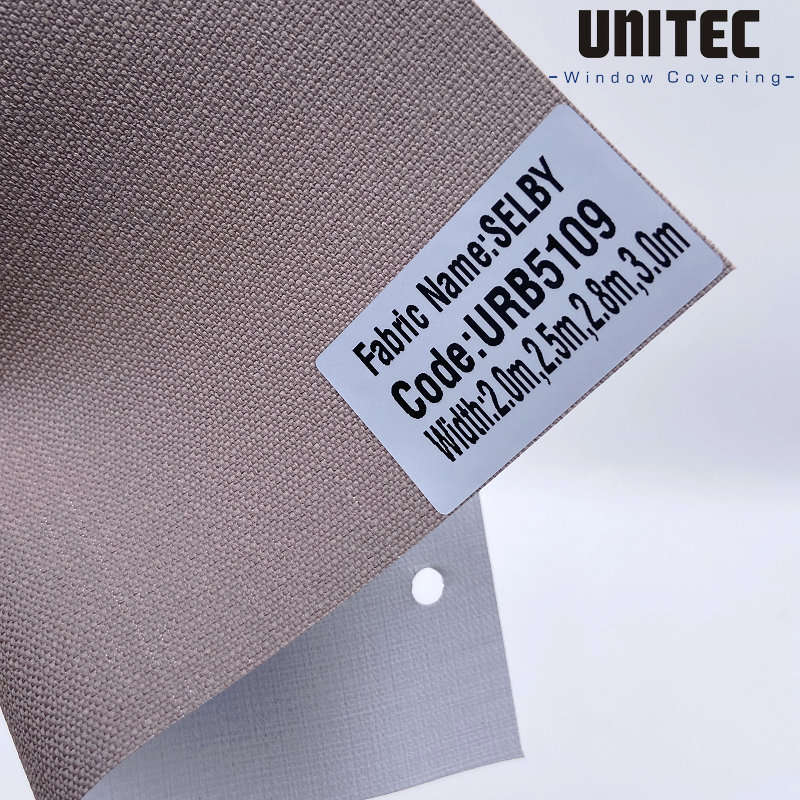 Dark brown opaque roller blind URB5109 can better block the sun and block the noise. These roller blind fabrics can be used as interior blinds, office roller blinds, hotel roller blinds, airport roller blinds. It can be used in any public place.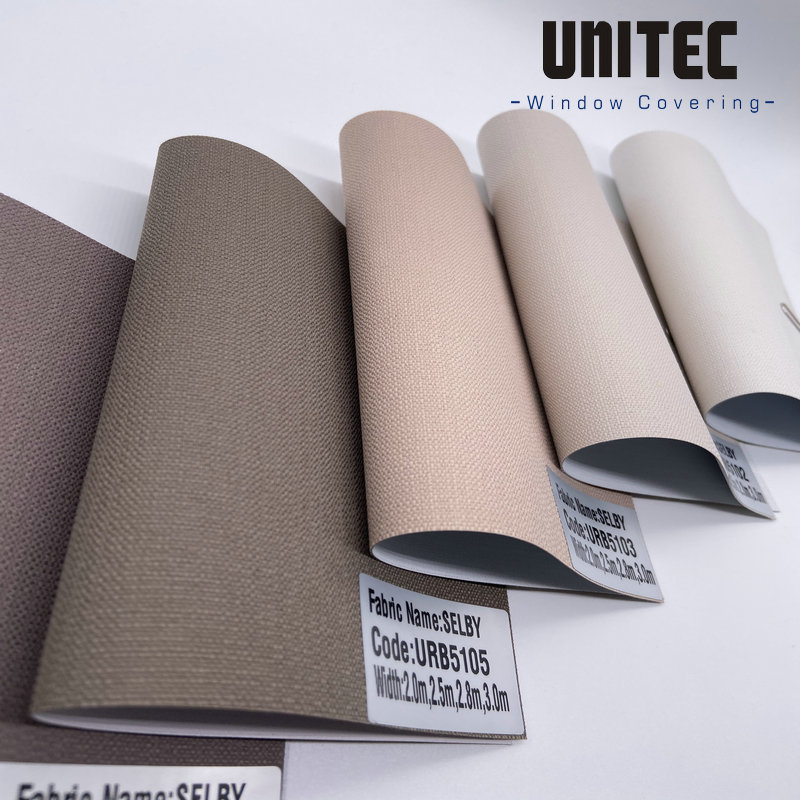 Coated Dark brown opaque roller blind URB5109
This fabric for roller blinds also has flame retardant, waterproof and antibacterial properties. We can also customize the product design according to the requirements of the customers.
These coated Dark brown opaque roller blind have all the proven advantages of classic window coverings:
Style. The elegant design of coated roller blinds adapts perfectly to modern or traditional interiors, which adds to the beauty of each design. This Dark brown opaque roller blind can be made to room darkening roller blinds/blackout roller blinds.
Color. Use bright and solid colors to make bold statements, choose to add subtle character patterns, or choose any color coated roller blind fabric. Any customized color is available.
Light control. Dark brown opaque roller blind comes in sheer, light-filtering, room darkening, and blackout roller shades, meaning you can choose the light level that suits your room best. And because they're so simple to operate, window blackout roller blinds fabric makes everyday light control as easy as a flick of the wrist.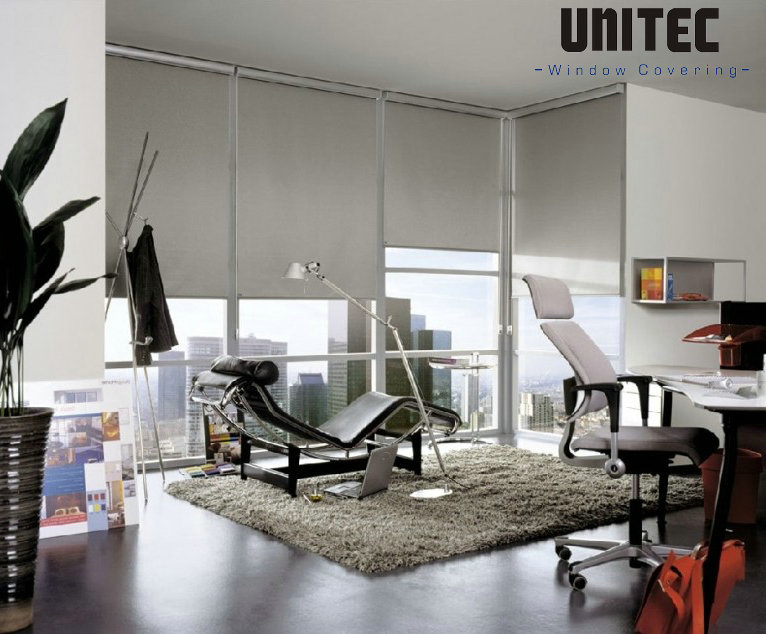 what are the benefits of Dark brown opaque roller blind?
Lighting control
Street lights, car lights, and general light pollution are all interference, which can be quickly eliminated by installing Dark brown opaque roller blind in your house. No matter how the season changes, shading fabrics can also help you maintain proper sleep throughout the year.
A dark brown opaque roller blind is very effective in children 's bedrooms, and opaque roller blinds provide better protection for sleep in the dark
Additional insulation
The dark brown opaque roller blind is very suitable for the coming winter, in fact, it can provide better heat insulation for the family, which means reduced energy consumption and save more money on the family bill!
This is because the opaque roller blind is a thicker fabric, so it can better resist the heat dissipation.
Anti-noise
Dark brown opaque roller blind also has the additional advantage of suppressing noise, which is an ideal solution for people living in urban areas or near highways / main roads. It can create a quiet living environment regardless of the day.
Extra privacy
The dark brown opaque roller blind is especially suitable for bathrooms and bedrooms. Shading fabric can provide better privacy for families, which is an important step in creating a safe and comfortable living space.
The opaque roller blind can not only block the external landscape but also cleverly block the internal landscape.
---
Previous:
OEM/ODM Manufacturer Peru Polyester Roller Blinds Fabric - Jacquard roller blinds named "Illusiov" – UNITEC
---
1. Parameters:
Application: Roller blinds, Roman blinds and Panel Window Blinds
Technical Data:
•Composition (BO): 100% Polyester, Acrylic Foam Coating
•Width: 2.5m,2.8m,3.0m
•Light Fastness: 5-6 (Blue Scale) Tested to ISO 105-B02:2014
•Nominal weight:(BO)381±5%(g/㎡)
•Nominal thickness:(BO)0.49 mm
•Fire Classification: California U.S. Title 19 (small scale), NFPA 701-2010 TM#1 (small scale), BS 5867 2008 Part 2 Type B Performance.
Performance:
•Opacity: Blackout (Complies to AS 2663.3.1999)
2. Certification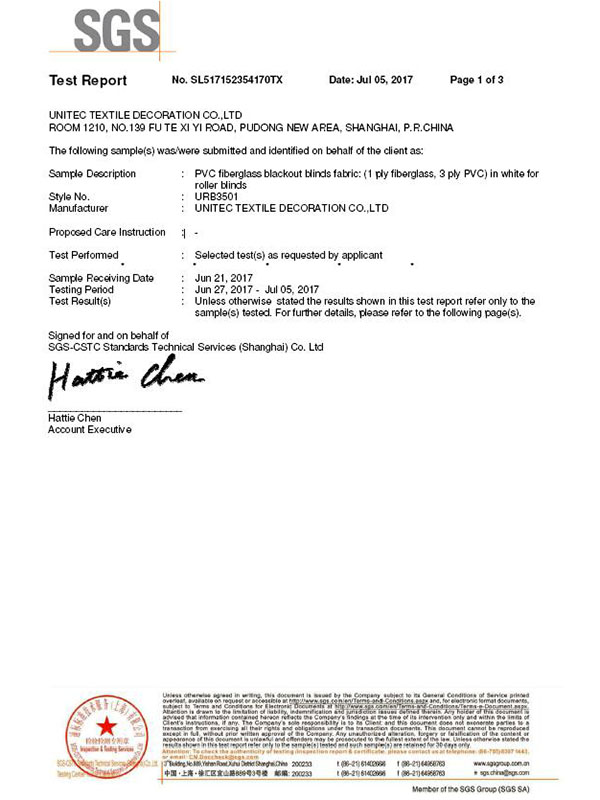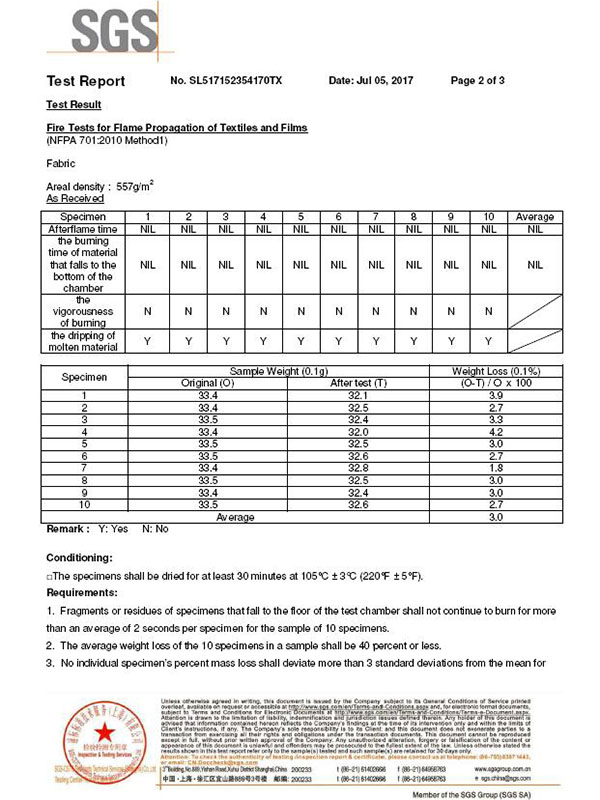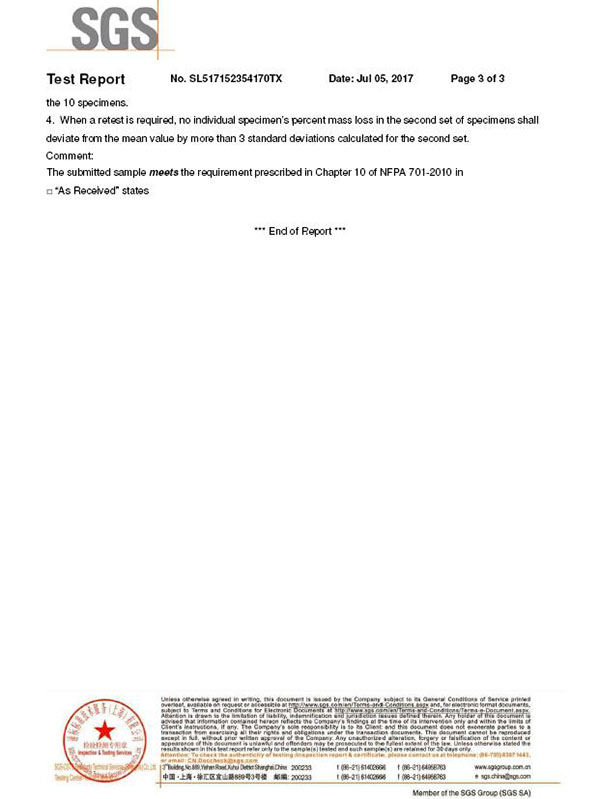 1. Packing:
Length per roll: 30m/30 yards
Inner packing: hardboard tube and kraft paper/ poly bag
Outer packing: hardboard tube and tube cover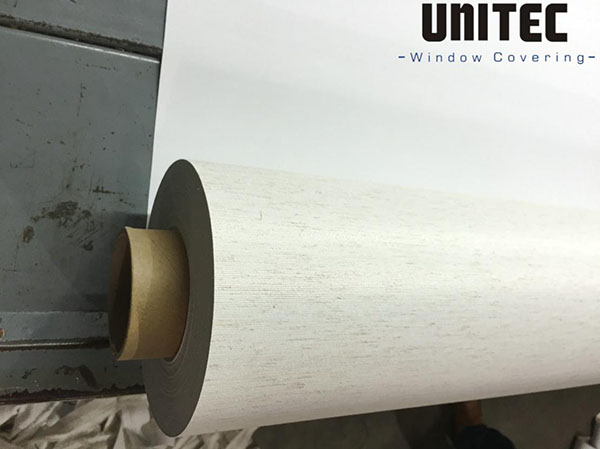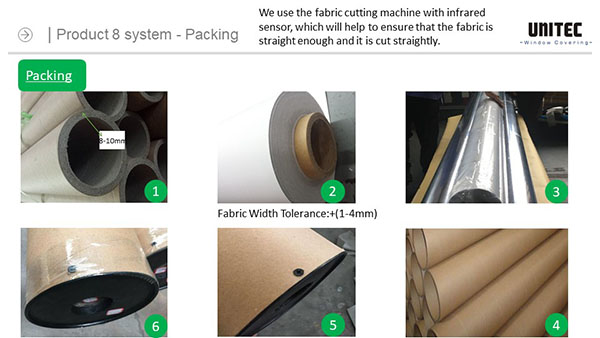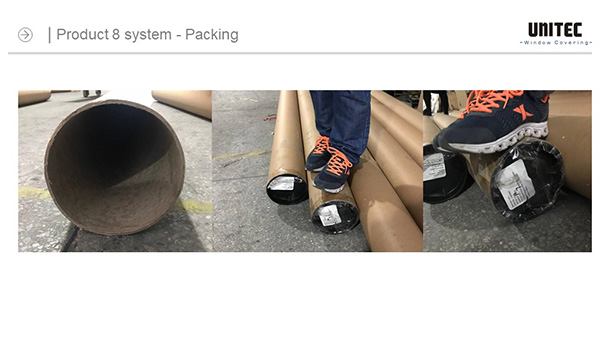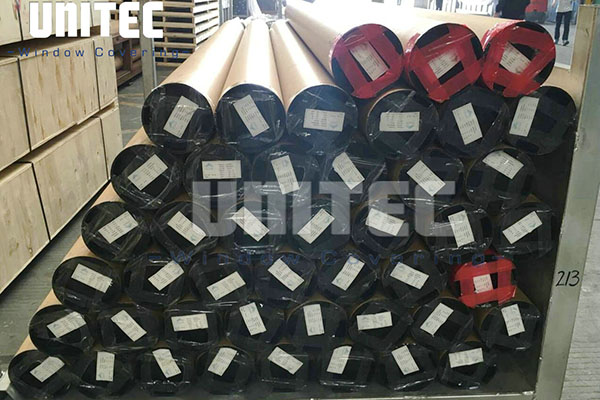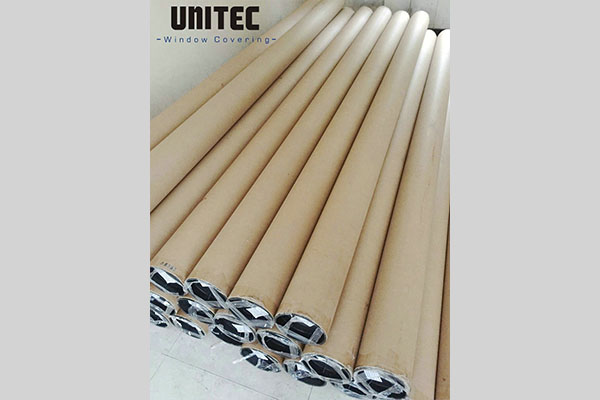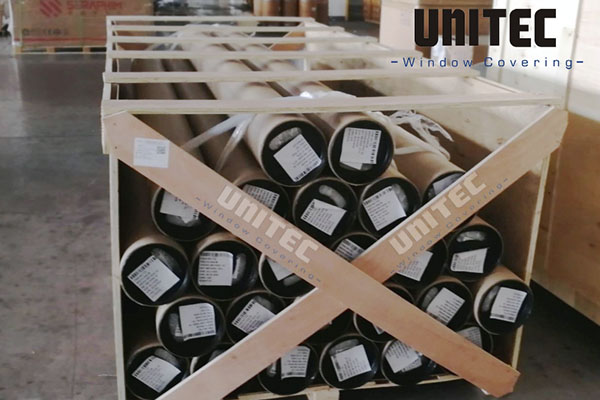 Container Loading: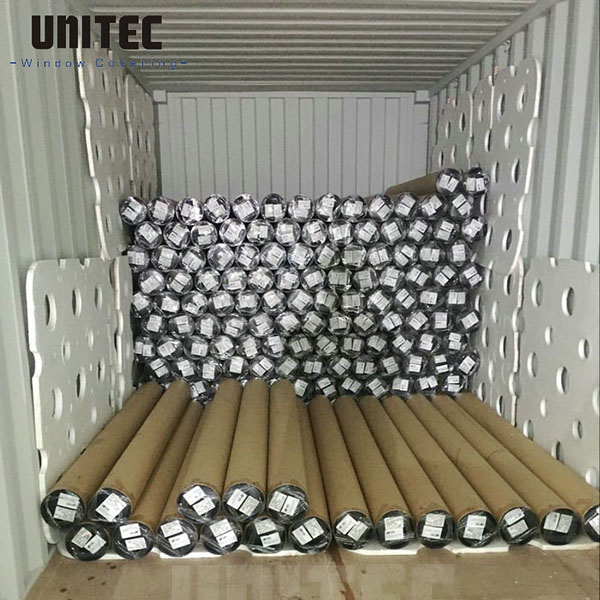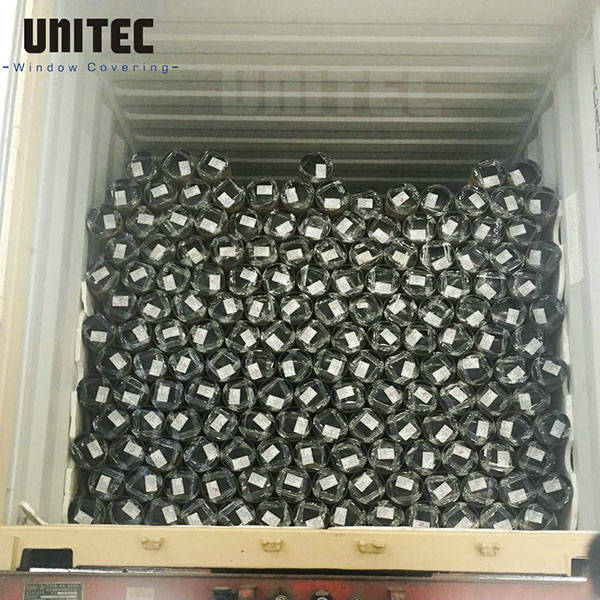 Shipping Method:
Air Shipment & Sea Shipment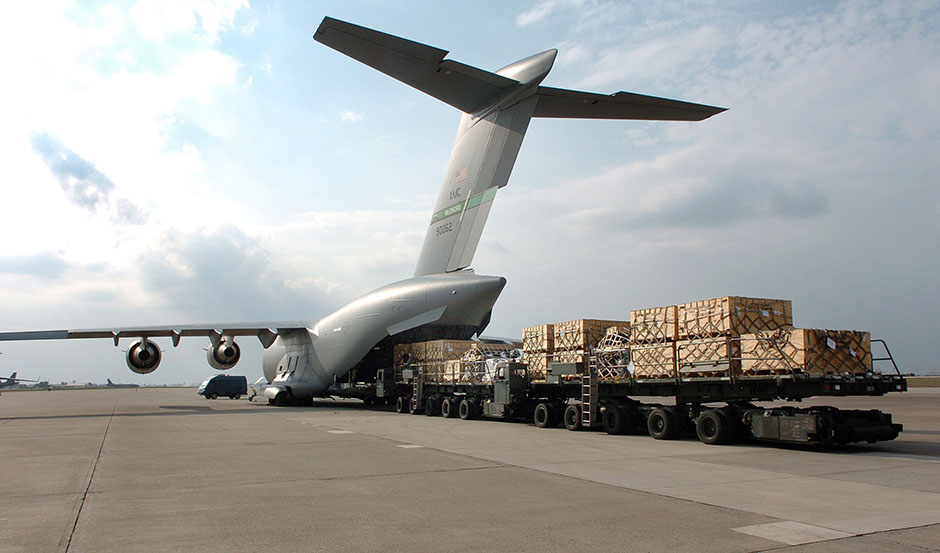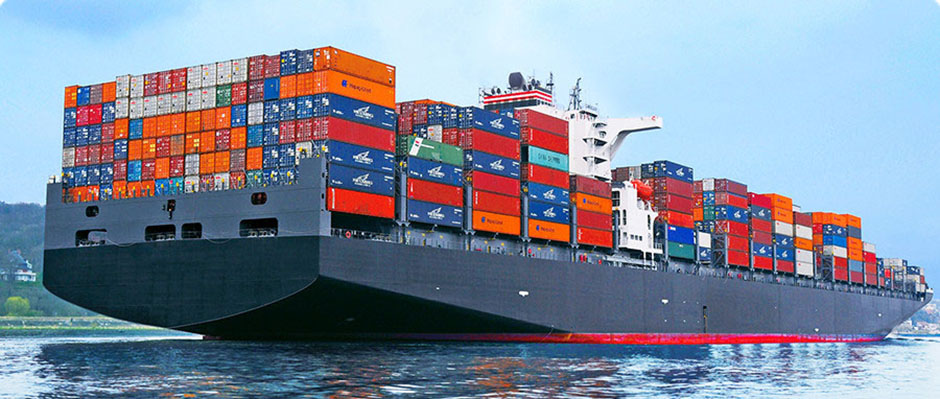 Quality Assurance & Warranty
The final inspection would be made before shipment.
1. Inspect the flatness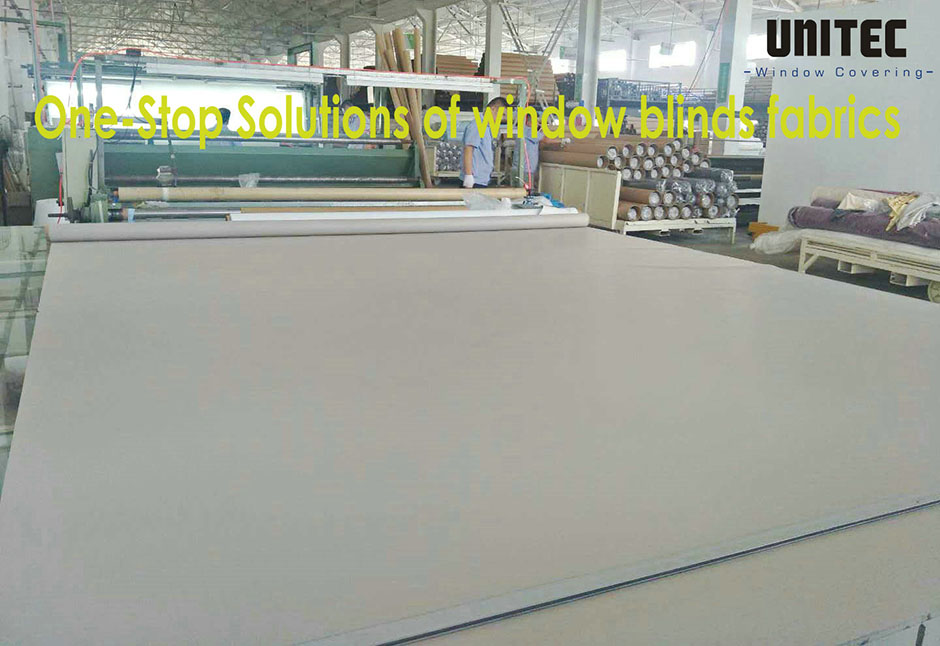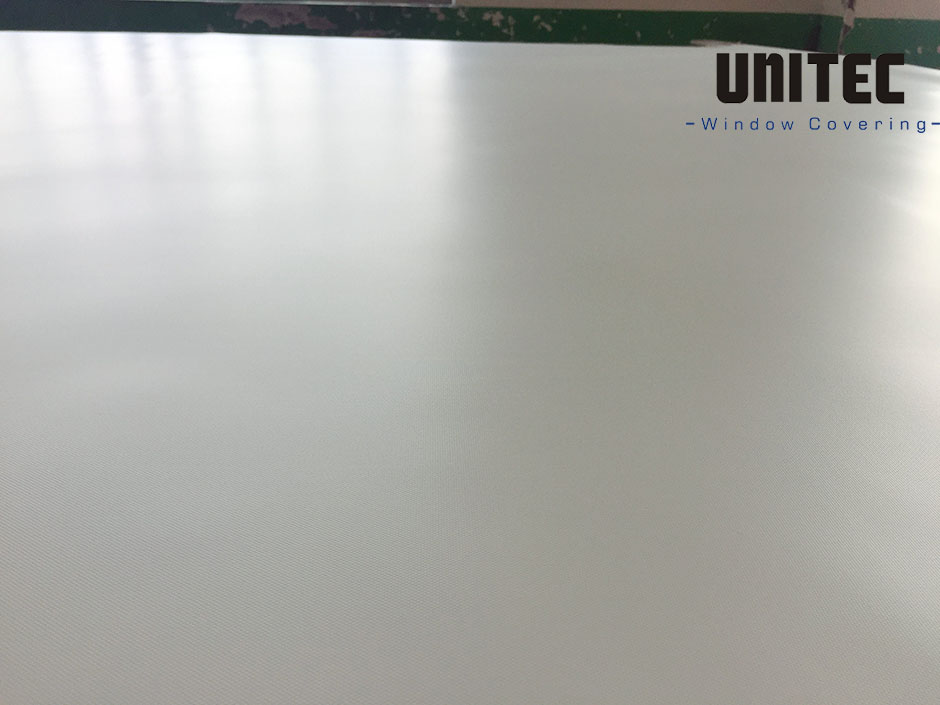 2. Fabric Thickness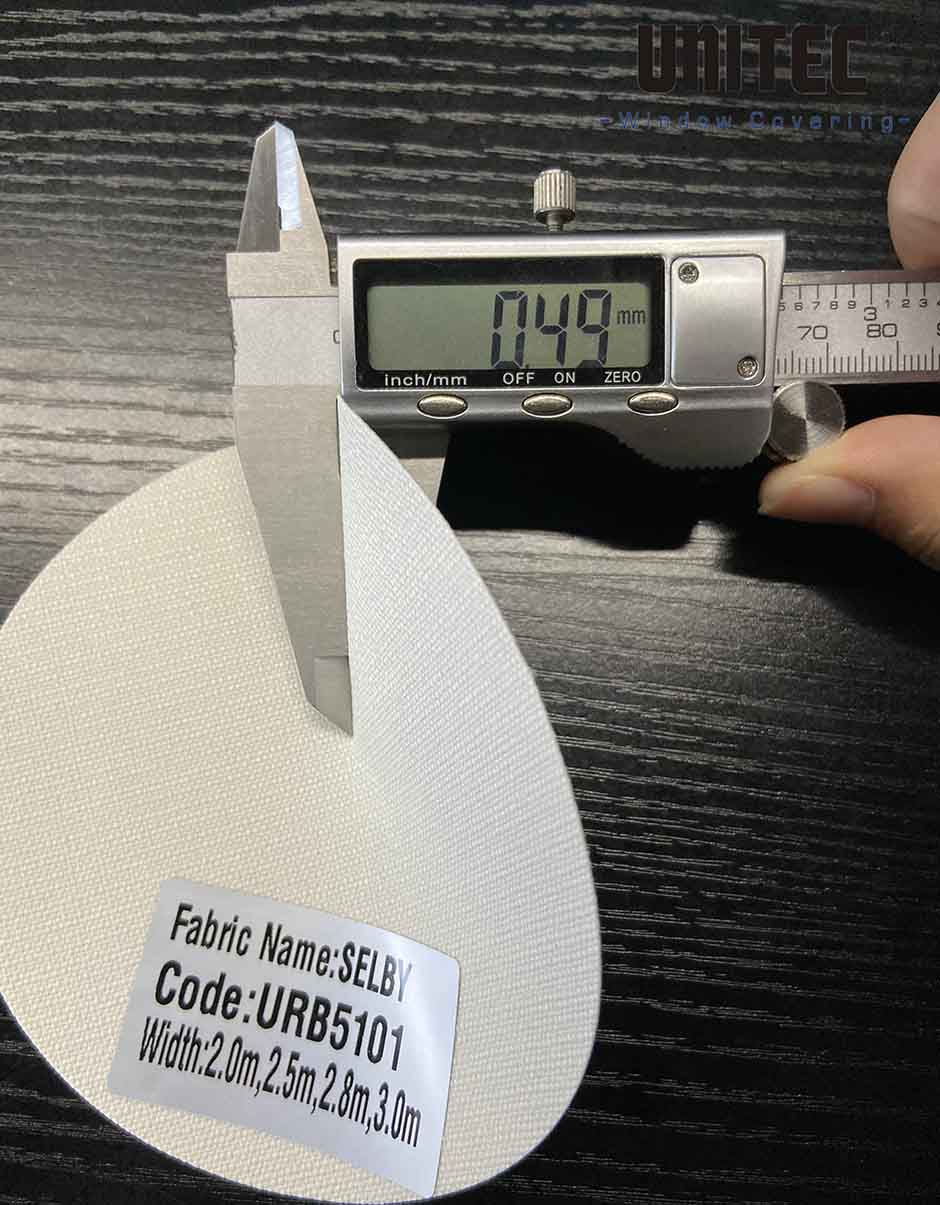 3. Fabric Weight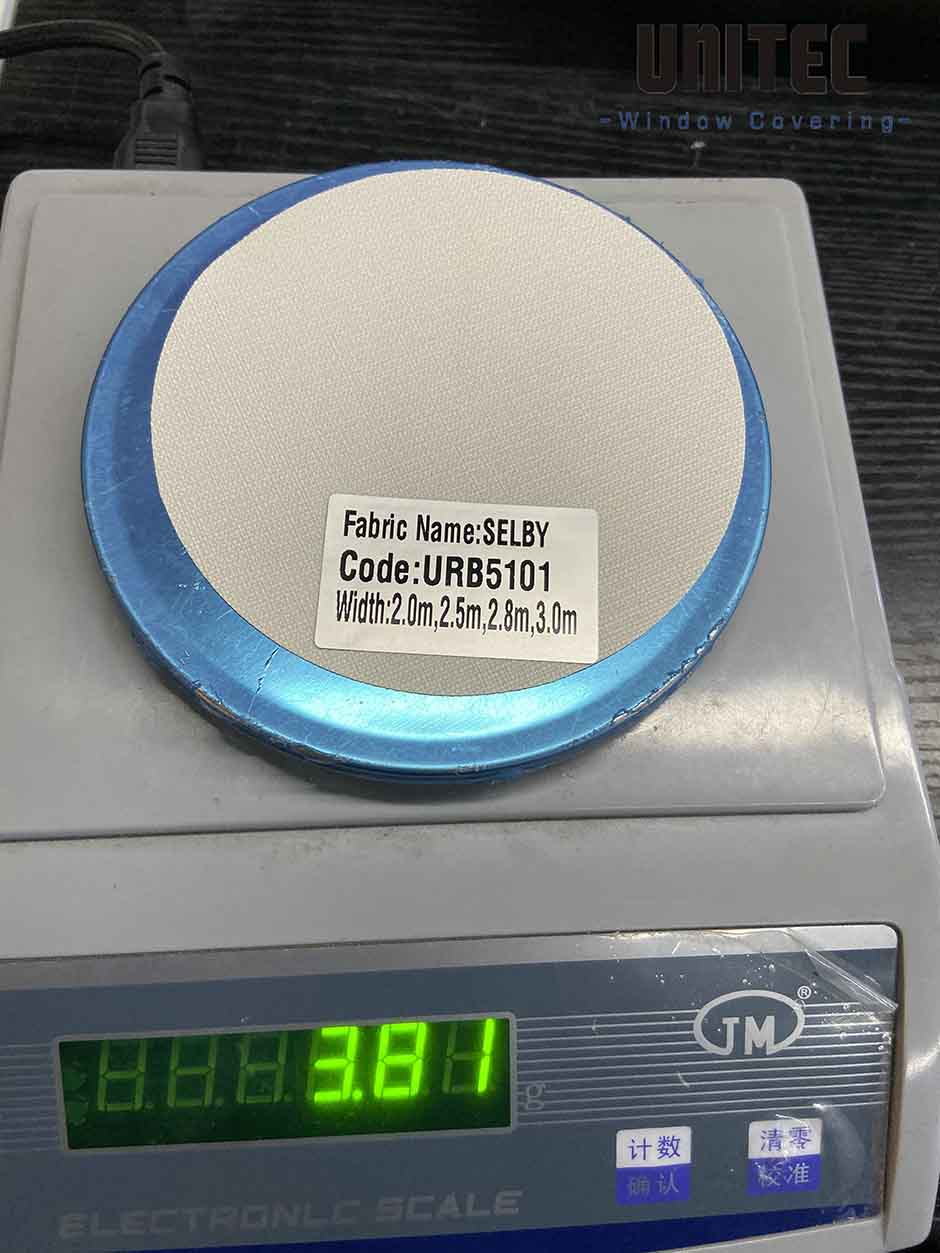 Inspection Report made by QC team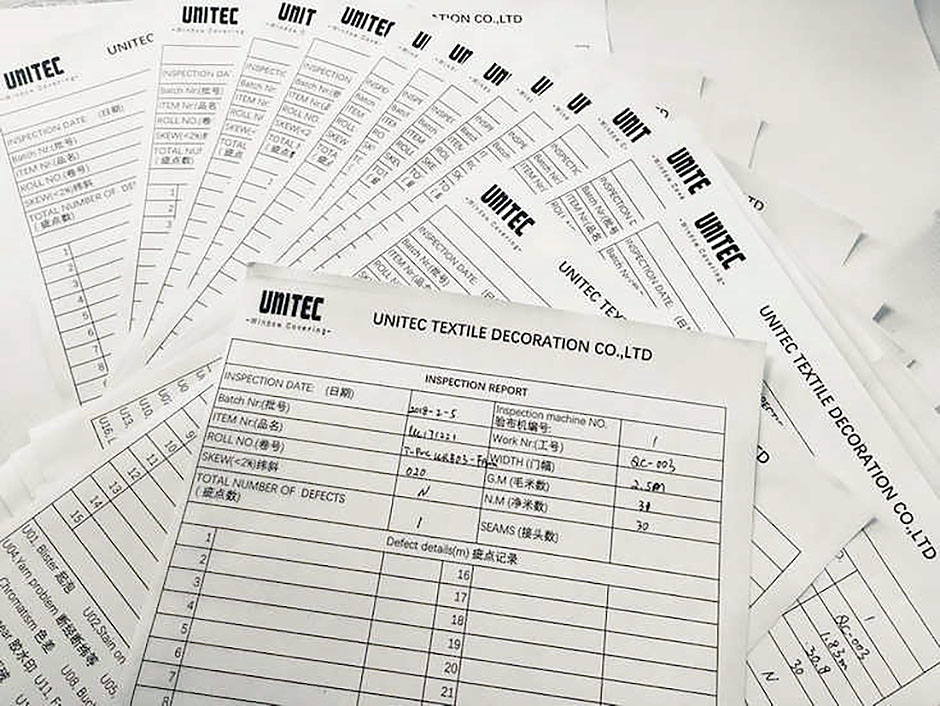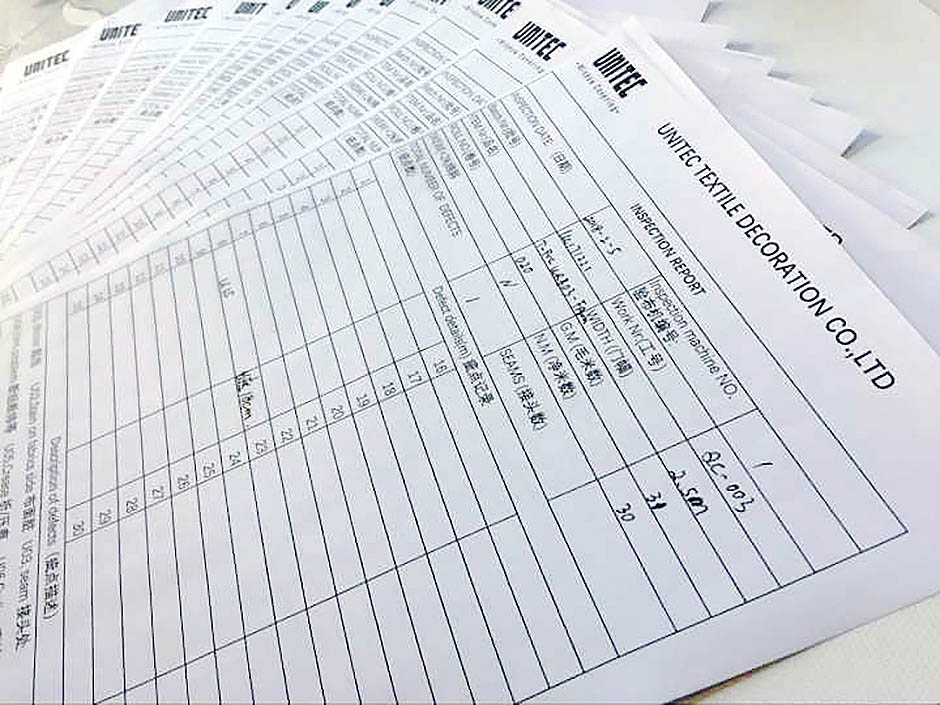 Warranty:
UNITEC has passed the certification of ISO9001-2008, SGS, CE, INTERTEK and a strict QC system including IQC (Income Quality Control), IPQC (In Process Quality Control), FQC(Final Quality Control) and QA (Quality Assurance). Our mission at UNITEC is to deliver the highest quality of roller blind fabrics, this is why we provide our customers with the security of quality warranty on all of the products. To protect you even further, UNITEC now offers one extra year warranty, in addition to the standard 4-year product warranty, on a selection of products to ensure continuous peace of mind. Don't miss out! Place your order to get the warranty now!