The highest quality Screen roller curtain fabric for blinds in the UNITEC Textile Decoration catalog is Supreme. A luxury fabric with excellent performance guaranteed with all the quality seals and certificates. It is not by chance that it is the most popular Screen fabric .
It is a 5% screen fabric thanks to its 520 grams per square meter of weight (520g / m2) composed mostly of PVC and Polyester (73% PVC - 27% Polyester). Its thickness is 0.72 mm, width of 250 cm and opening factor of only 5%. These numbers translate into a tensile strength greater than 400 decaNewton per 5 cm (daN / 5 cm) in both the warp and the weft; NFPA701 fire resistance; class 4.5 light resistance and UVA ray factors higher than 97% and UVB of 95%.
In short, the ideal Screen roller curtain fabric for those seeking high-end quality and performance. Certified with the OEKO TEX Confidence in textiles, GreenGuard and REACH seals.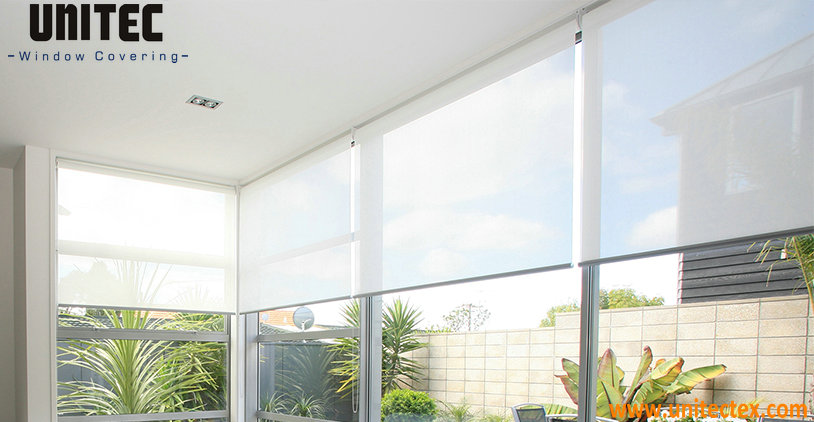 Why choose a screen roller curtain fabric for a roller blind?
If the other day we were talking about the translucent fabric for a roller blind, today we focus on the screen fabric and all its properties. When asked what is the main difference between the two, we analyze the advantages of screen fabric, the best option to get a good passage of light.
The screen roller curtain fabric is a very resistant micro-perforated material formed by interlaced fibers, which does not tear or lose properties over time, in addition to not accumulating dust. The composition can be made of PVC, polyester and fiberglass and they are blinds that cannot be washed but are very easy to clean. A little soapy water will suffice for specific stains.
The screen fabric acts as a thermal regulator and retains heat and cold by simply letting light pass through, which means energy savings in both winter and summer. This is one of the main advantages and differences compared to a translucent fabric, in addition to allowing more light to pass through.
Colors
As for the colors to choose from, the screen roller curtain fabric can be requested in neutral tones such as white, beige or different types of gray, even black. Very combinable and very valid colors that never go out of style, compared to the great variety of colors in the translucent rollers.
In addition, the screen roller curtain fabric does have external transparency so as not to lose good views, guaranteeing privacy in the same way because it does not have visibility from the outside. It is the fabric that allows "to see from the inside out without being seen". Only at night, and with the lights on, you can guess the movements and glimpse shadows.
Below are the collection of our screen roller curtain fabric:
Screen blinds fabric collections
Blackout roller blinds fabric collections
Popular search: Roller blinds fabric Zebra blinds fabric window blinds accessories
---
Post time: Aug-17-2021