DESCRIPTION OF VERTICAL BLINDS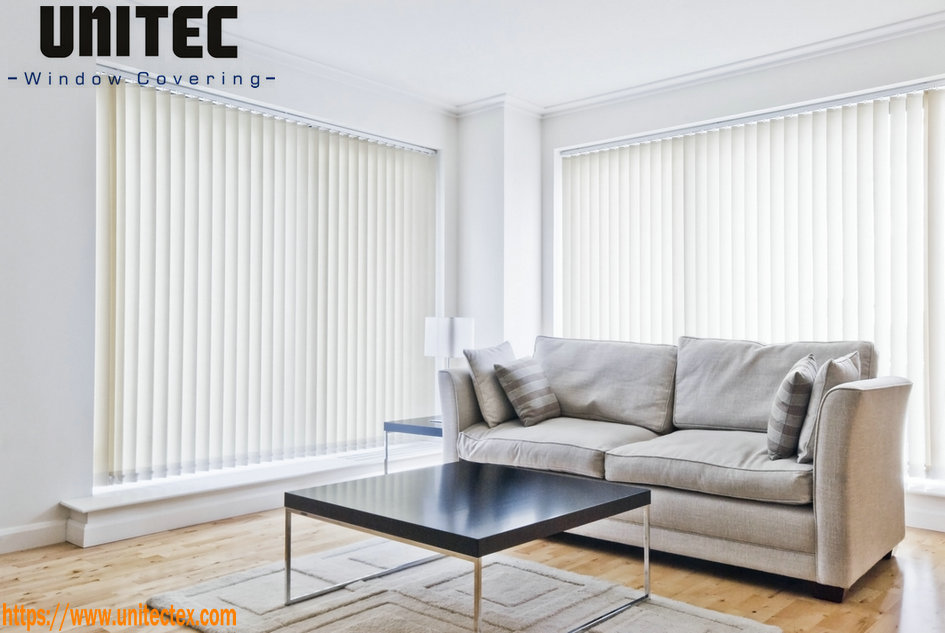 Vertical slat blinds are slim, simple, and elegant. They combine the enormous dimming possibilities of slat curtains with the sobriety and elegance of Japanese panels.
The mechanism of the vertical blinds allows both the direction of the vertical blinds and the horizontal collection of the vertical blinds. They are ideal for covering large windows, especially when these constitute outdoor passageways and balconies.
The vertical blinds are available in a wide variety of fabrics and slat widths of 89 and 127 mm. The type of collection of the slats can be: right, left, both sides, or central.
WHAT IS INCLUDED OF THE READY MADE VERTICAL BLINDS
1. Chain: Turn the slats
2. Drawstring: Open and close the curtain
3. Vertical slats
4. Lacquered aluminum rail
5. Lower chain: Joins the slats together
6. Lower weights: They give the fabric sag.
7. Installation plugs, screws and brackets
TYPES OF COLLECTION OF VERTICAL BLADE CURTAINS
The slats of vertical blinds can be retracted in several different ways, depending on our preferences: all to the right (RD), all to the left (RI), half to the left and half to the right (RL), or towards the center (RC)
AVAILABLE SLAT WIDTHS
The most common slat widths for vertical blinds are 89mm and 127mm. Choosing one or the other width of slat depends on personal preferences, since the choice responds only to aesthetic reasons. Functionally, both the one and the other slat widths are equivalent.
To keep the slats taut, counterweights are added at their ends. In addition, the slats are joined together by means of a chain, which keeps them together and at the same distance from each other.
---
Post time: Aug-21-2021