There is a new type of roller blind on the market, and everyone is talking about them: day and night roller blinds, also known as zebra roller blinds, because of their ability to filter light completely or partially. In this article, we will explain what zebra roller blinds are, how they work and why zebra roller blinds may become an essential thing in your home.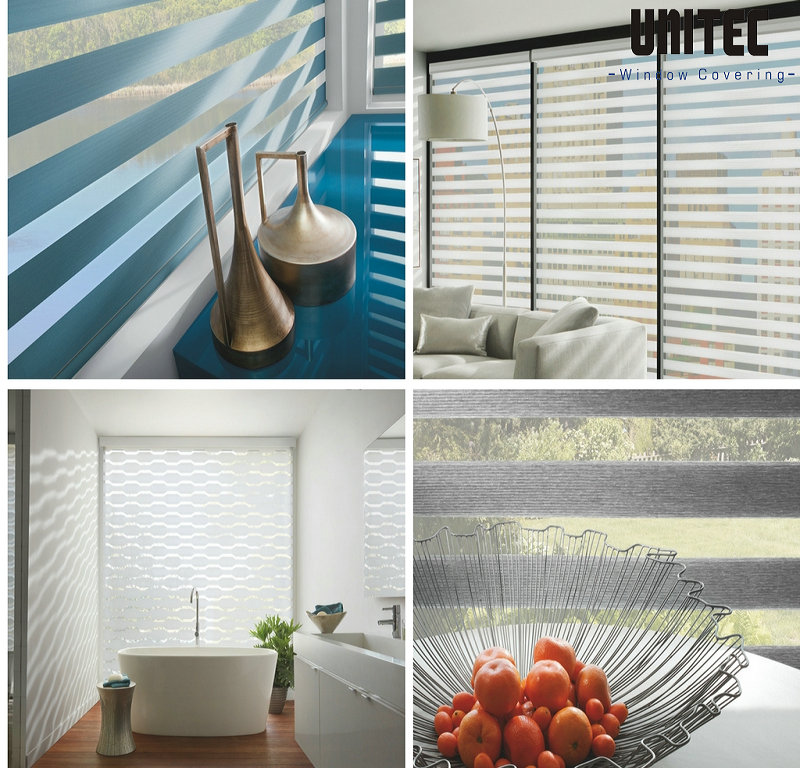 What is zebra roller blind fabric?
These roller blinds are unique because they have two layers of fabric. In a window, you will have a layer of transparent yarn and a layer of translucent or opaque polyester, which are cross-woven to form a zebra-like roller blind. The reason for combining two fabrics in the same window is to be able to use the versatility of these roller blinds both day and night.
The zebra roller blind fabric is specially designed for those customers who want to fully control the amount of light entering the room.
These fabrics are used exclusively for this type of zebra roller blinds. They are fabrics with transparent horizontal stripes and alternate designs. Depending on whether the horizontal stripes overlap between one layer and the other, they can block or allow light to pass through. This type of fabric or blinds can be translucent zebra fabric or shading zebra fabric. The difference between the two is that the latter part of the design is power outage, which makes the darkness in the "closed" mode higher and has better thermal protection.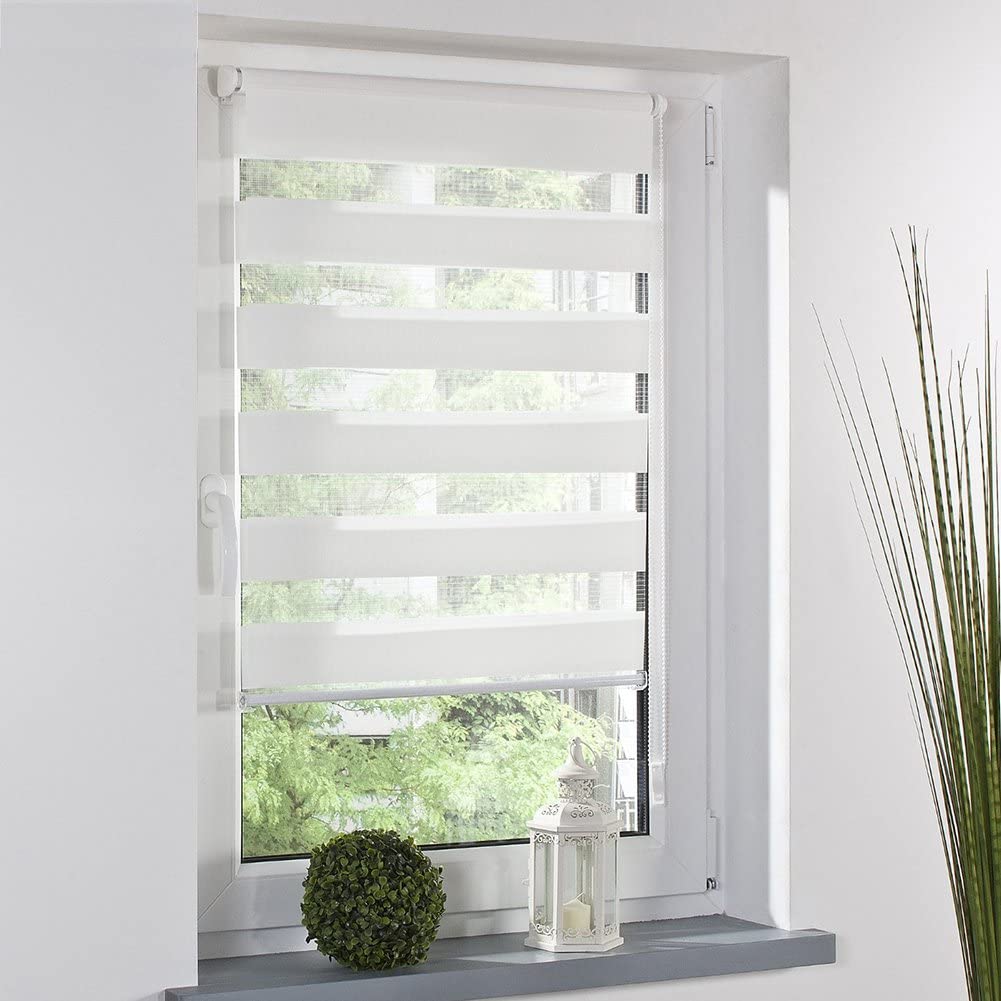 The fabric is manufactured by UNITEC Textile Decoration, a leading designer and manufacturer of zebra roller blind fabrics. Zebra roller blinds include translucent and shading zebra blind fabrics.
The fabric is woven with advanced textile technology and high-quality 100% polyester filament yarn. This zebra roller blind is not wrinkled, easy to cut, and the fabric has no fraying on both sides.
In this way, you can modify the aperture to achieve a complete lighting solution, regardless of the weather, you can get a complete, opaque or partially transparent effect. This new technology will allow you to always find the privacy and lighting level that best suits you.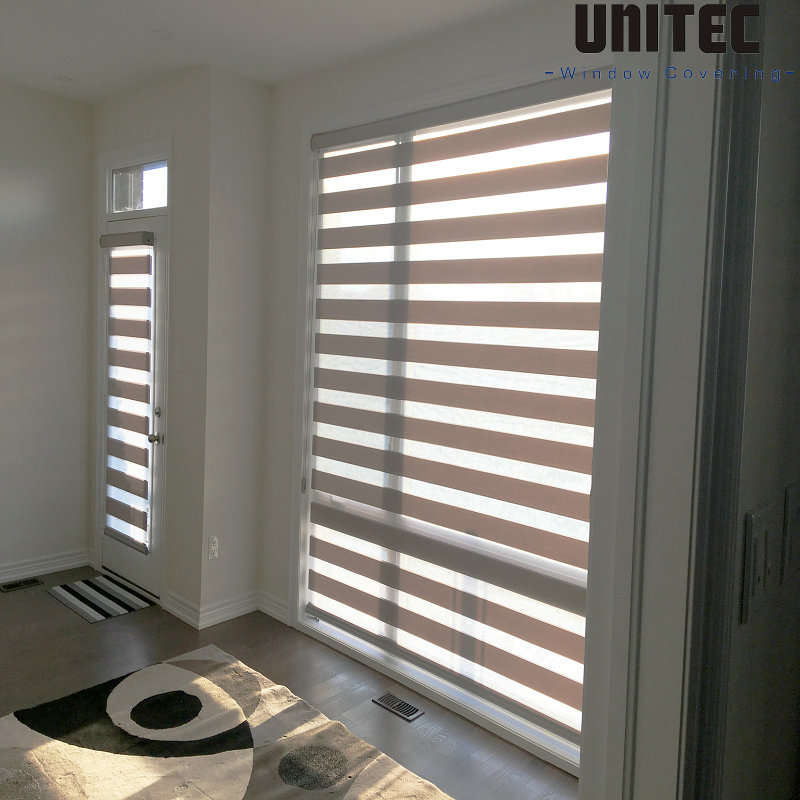 How does the zebra roller blinds work?
Due to its operation, day and night roller blinds are also called zebra roller blinds. When pulling the rope, the two separate fabrics will slide against each other. They are a double combination of a transparent layer and a translucent roller blind layer or a shading roller blind layer, which can have the advantages of both.
Benefits of zebra roller blind fabric
Zebra roller blind fabrics provide multiple advantages for anyone who wants to buy them, whether for home or office:
Excellent insulation material: its ability to capture and retain heat between two layers will help reduce energy costs. This is so because it has been proven that the temperature of the room is filtered through its opening. Therefore, with the help of zebra roller blinds, it will be able to better retain the heat in winter and prevent the heat from entering, thereby reflecting back outdoors in summer.
Full light control: In addition to controlling the level of light entering the room to avoid excessive sunlight, you can also use electronic devices such as computers. , Because you won't have those annoying reflections on your monitor.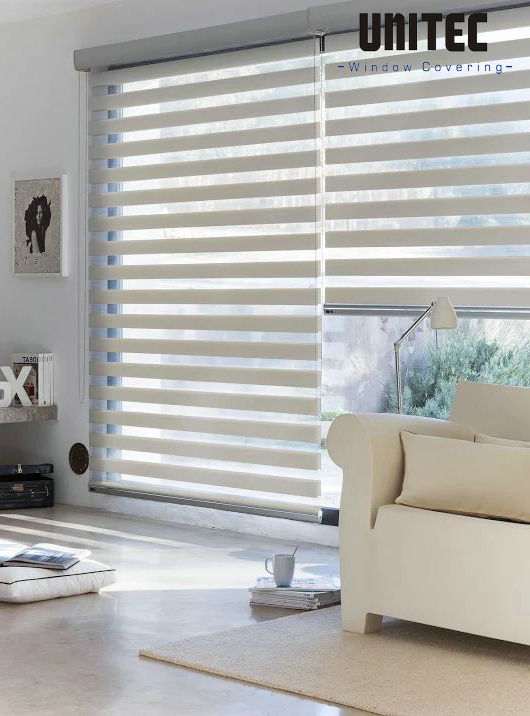 The zebra roller blind fabric has a spectacular aesthetic: its multiple designs make it a favorite choice for many interior decorators. Don't make your home obsolete. With Zebra Roller Blinds, you can add a modern feel to your room, which you have never thought of.
This is the way to display zebra roller blind fabrics or day and night roller blinds with innovative technologies in the market. They strive to position themselves on the podium of the best roller blind system. If you are very interested in this kind of roller blind, you can get in touch with us. We will try our best to meet all your requirements, whether it is color, size, length, width, label, packaging, etc.
---
Post time: Jul-28-2020