Roller Blinds Sunscreen Fabrics
Product Detail
OVERVIEW
PACKING & SHIPPING
QUALITY ASSURANCE & WARRANTY
Fabric name: Roller Blinds Sunscreen Fabrics
Code: URSF301-3011
Composition(TR): 30% Fiberglass,70% PVC
Application: Roller blinds Roman blinds and Panel Blinds
Technical Data:
• Composition (TR): 30% Fiberglass,70% PVC
• Width:2.5m,2.8m,3.0m
•Openness Factor: 5%
• Light Fastness: 5-6 (Blue Scale) Tested to ISO 105-B02:2014
• Nominal weight:419±5%gsm (TR)
• Nominal thickness: 0.55 mm (TR)
Roller binds fabric blackout roller blinds fabric home roller blinds
Production Process:
Spinning yarns
Weave base fabric
Coating fabric (White Foam Coated/Color Foam Coated)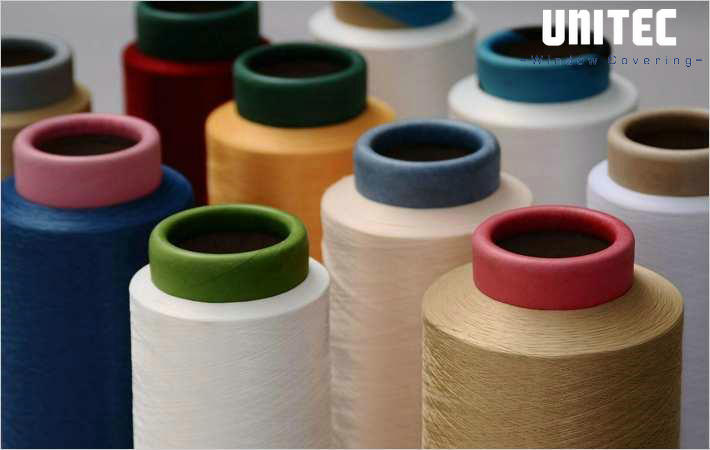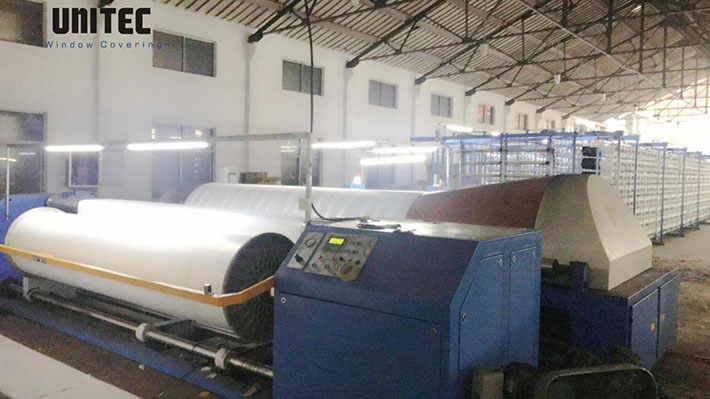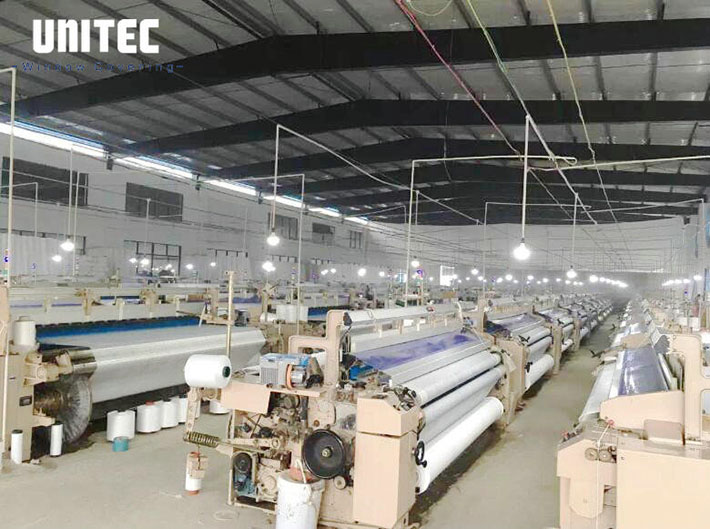 Sunscreen roller blinds Fabric is characterized by maximizing the entry of light without sacrificing privacy, allowing to observe the exterior gently and protecting both UV rays. Made of 30% Fiberglass, 70% PVC There fore, the fabric is often used for indoor screen blinds, sun block blinds, screen roller blinds, translucent screen fabric blinds. It can also be used for home sunscreen roller blinds, hotel sunscreen roller blinds, office sunscreen roller blinds.
Applications of sunscreen roller blinds Fabric:
It is a functional system, which occupies very little space once collected. Thanks to our different tube diameters and mechanisms, they can also be mounted on large windows. A comfortable and simple system. Screen fabric is the most used for its thermal functions, improving the energy efficiency of our home or our office. In addition to being fire retardant, we prevent the screen blind from being a source of fire, complying with the safety regulations requested by the EU, which are suitable for installation in addition to our house, in schools, restaurants, kitchens, offices, etc. The roller blinds, in addition to manufacturing them with the screen fabric, we also make them with opaque and translucent fabrics.
We have various colors collection for choose: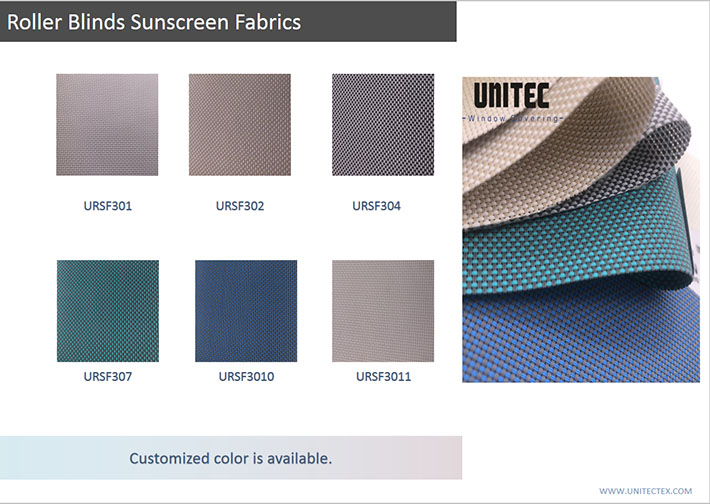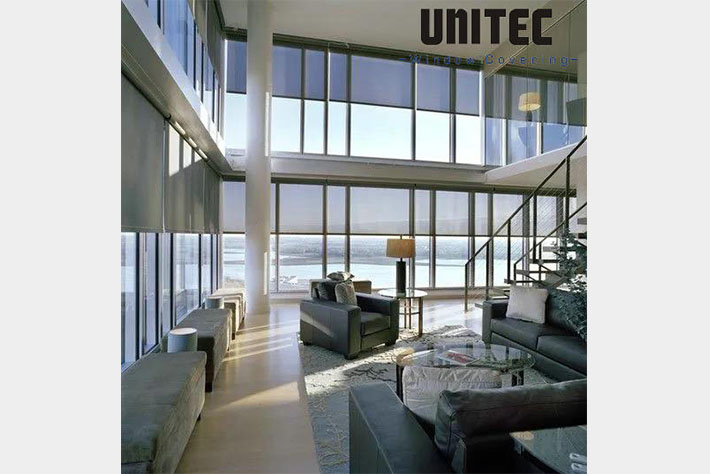 ---
---
1. Parameters:
Application: Roller blinds, Roman blinds and Panel Window Blinds
Technical Data:
•Composition (TR): 30% Fiberglass,70% PVC
•Width: 2.5m, 2.8m, 3.0m
•Openness Factor:5%
•Light Fastness: 5-6 (Blue Scale) Tested to ISO 105-B02:2014
•Nominal weight: 419±5% gsm (TR)
•Nominal thickness: 0.55mm (TR)
•Fire Classification: California U.S. Title 19 (small scale), NFPA 701-2010 TM#1 (small scale), BS 5867 2008 Part 2 Type B Performance.
Performance:
•Opacity: Blackout (Complies to AS 2663.3.1999)
2. Certification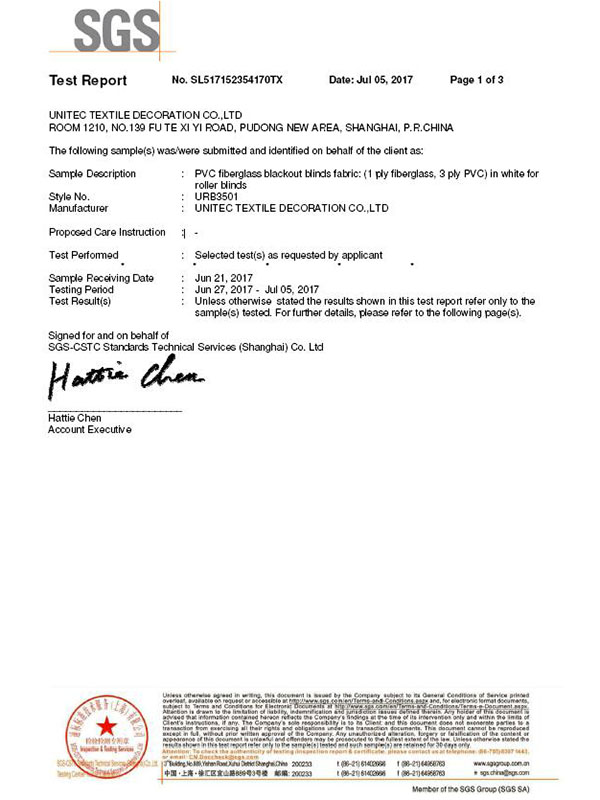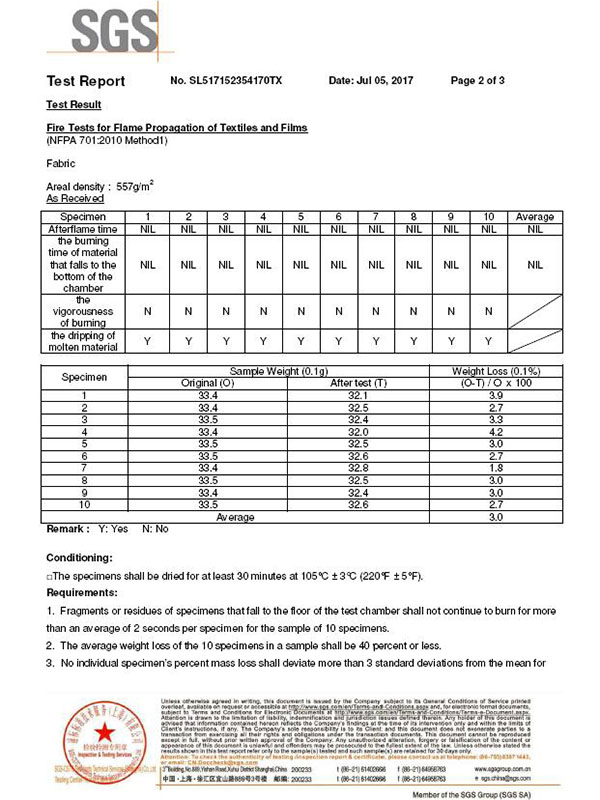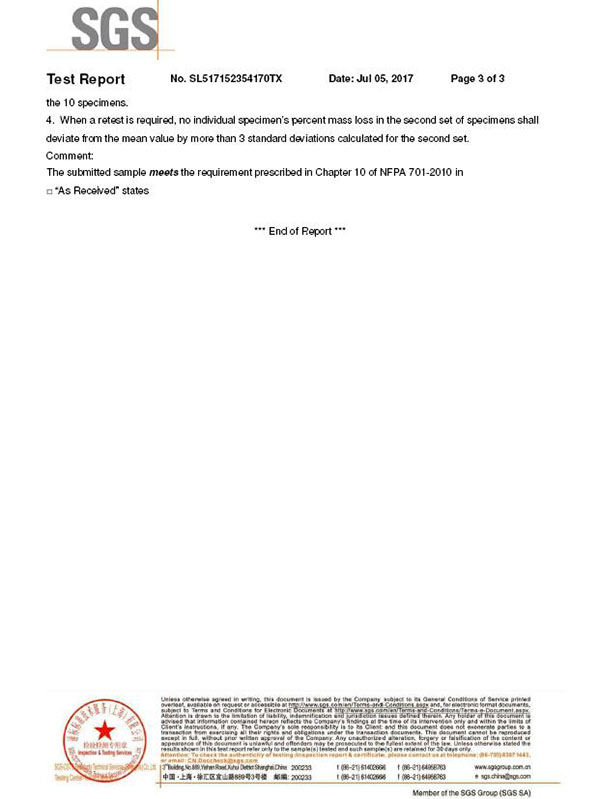 1. Packing:
Length per roll: 30m/30 yards
Inner packing: hardboard tube and kraft paper/ poly bag
Outer packing: hardboard tube and tube cover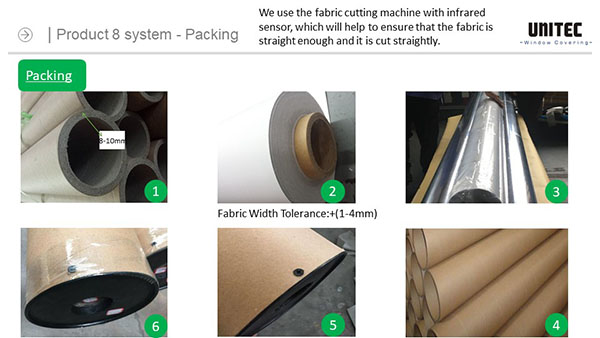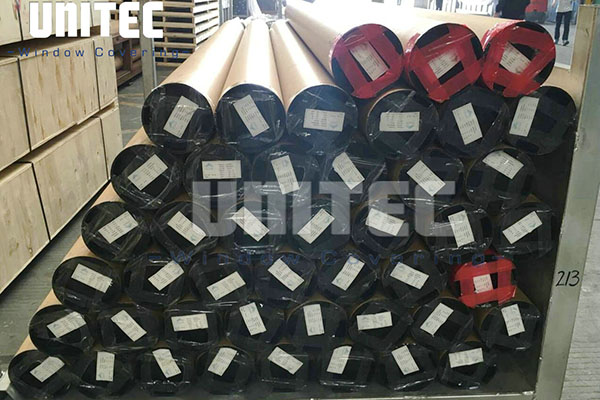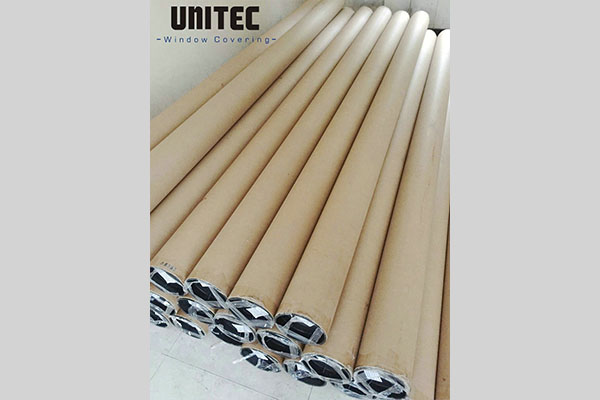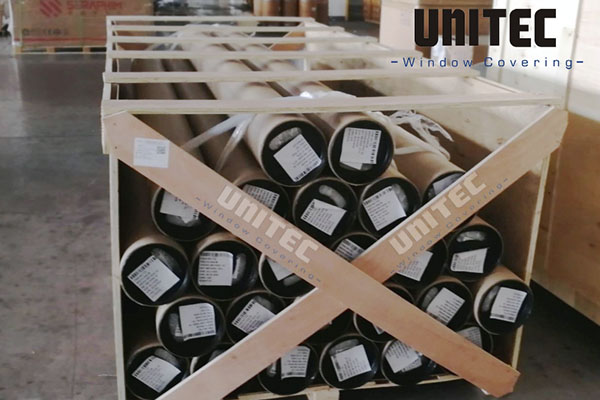 Container Loading: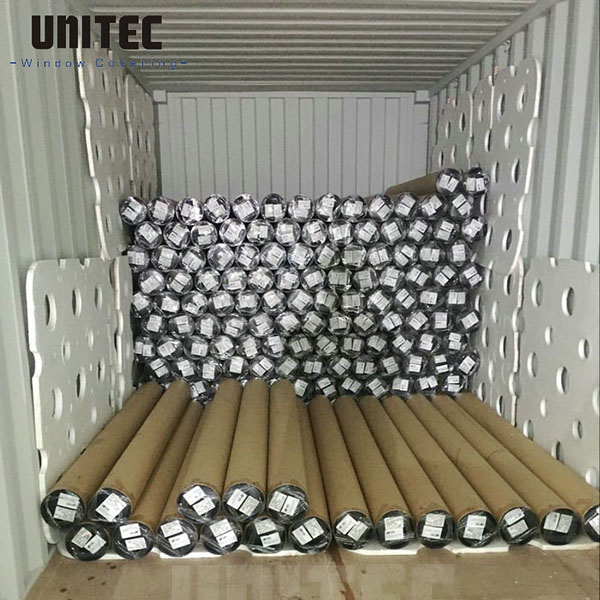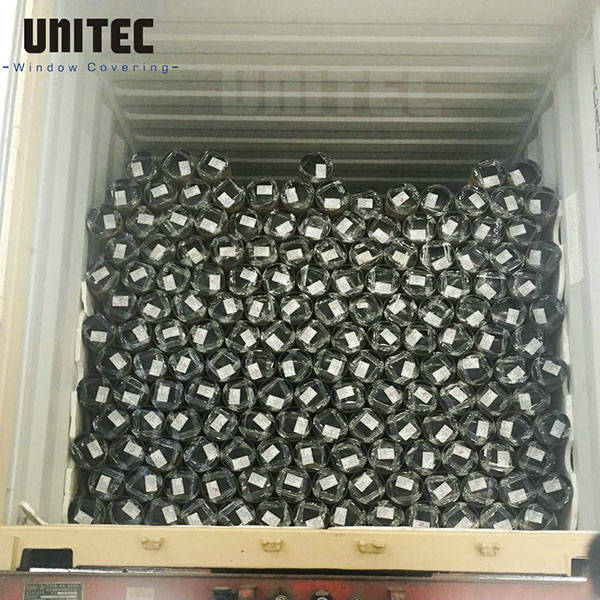 Shipping Method:
Air Shipment & Sea Shipment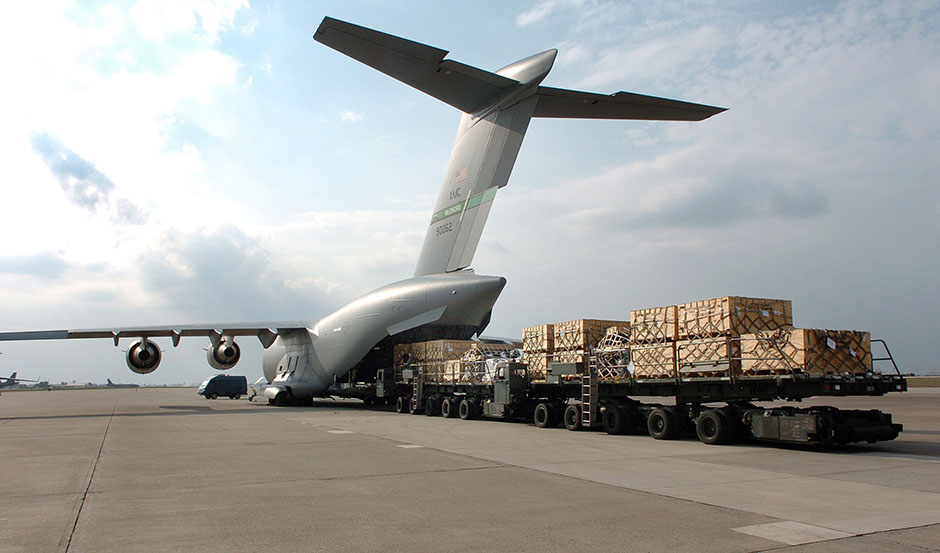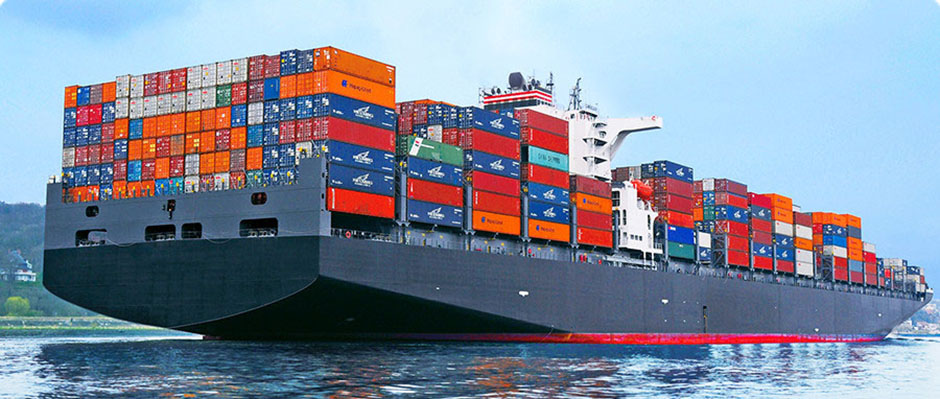 Quality Assurance & Warranty
The final inspection would be made before shipment.
1. Inspect the flatness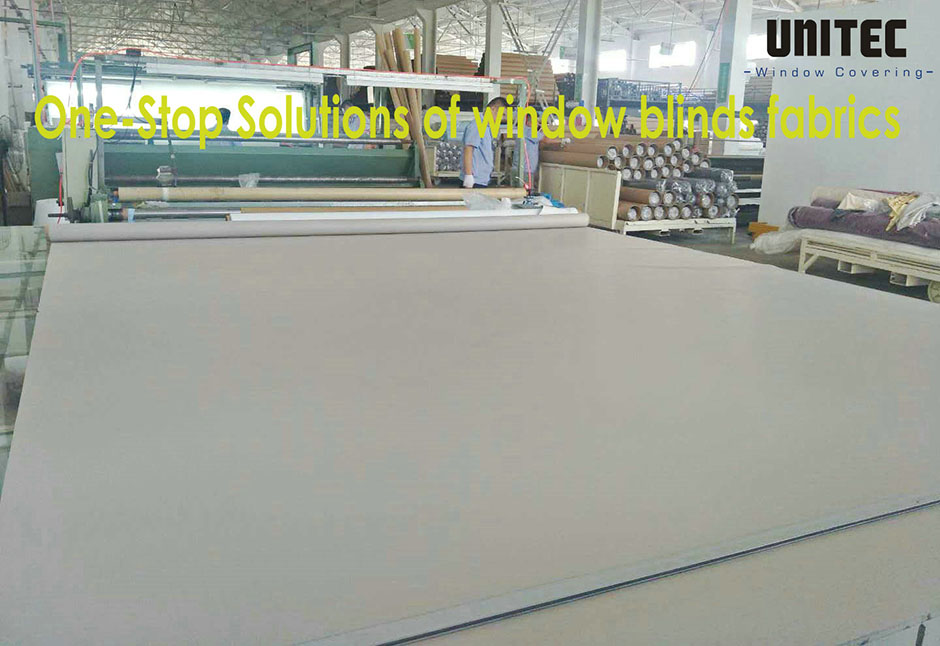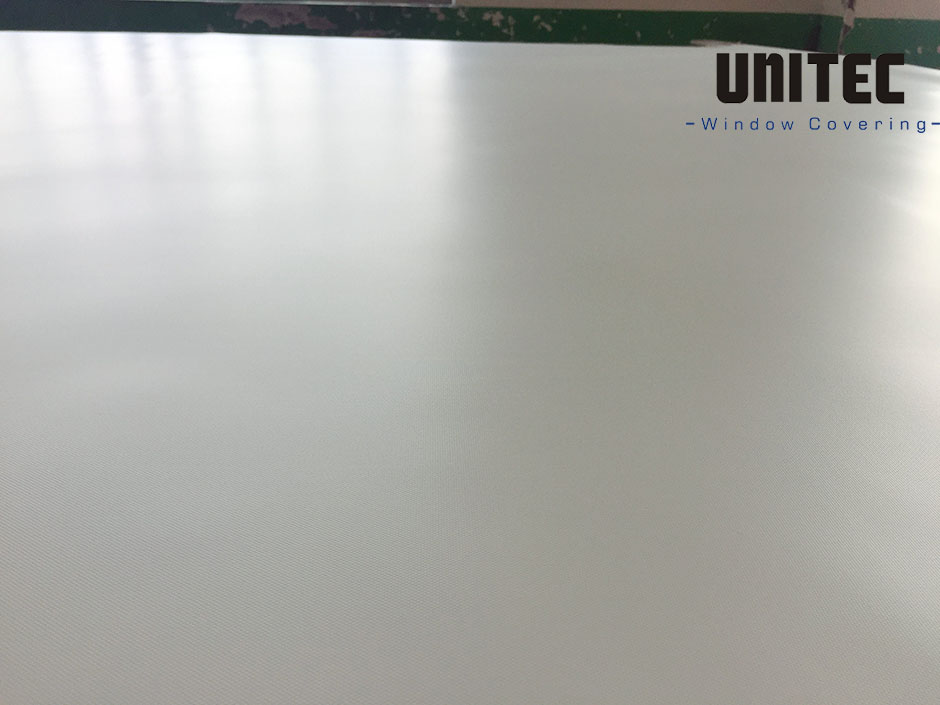 2. Fabric Thickness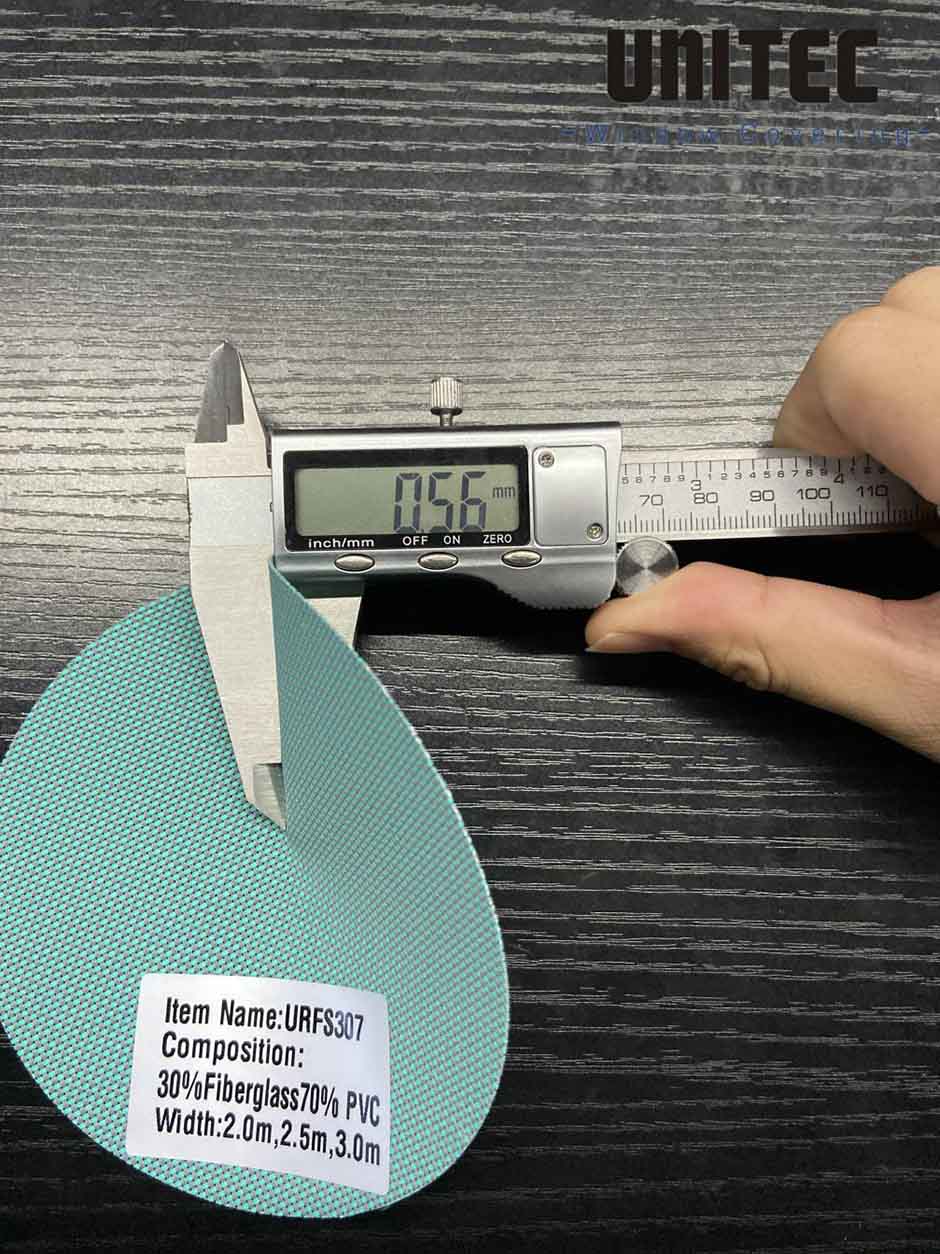 3. Fabric Weight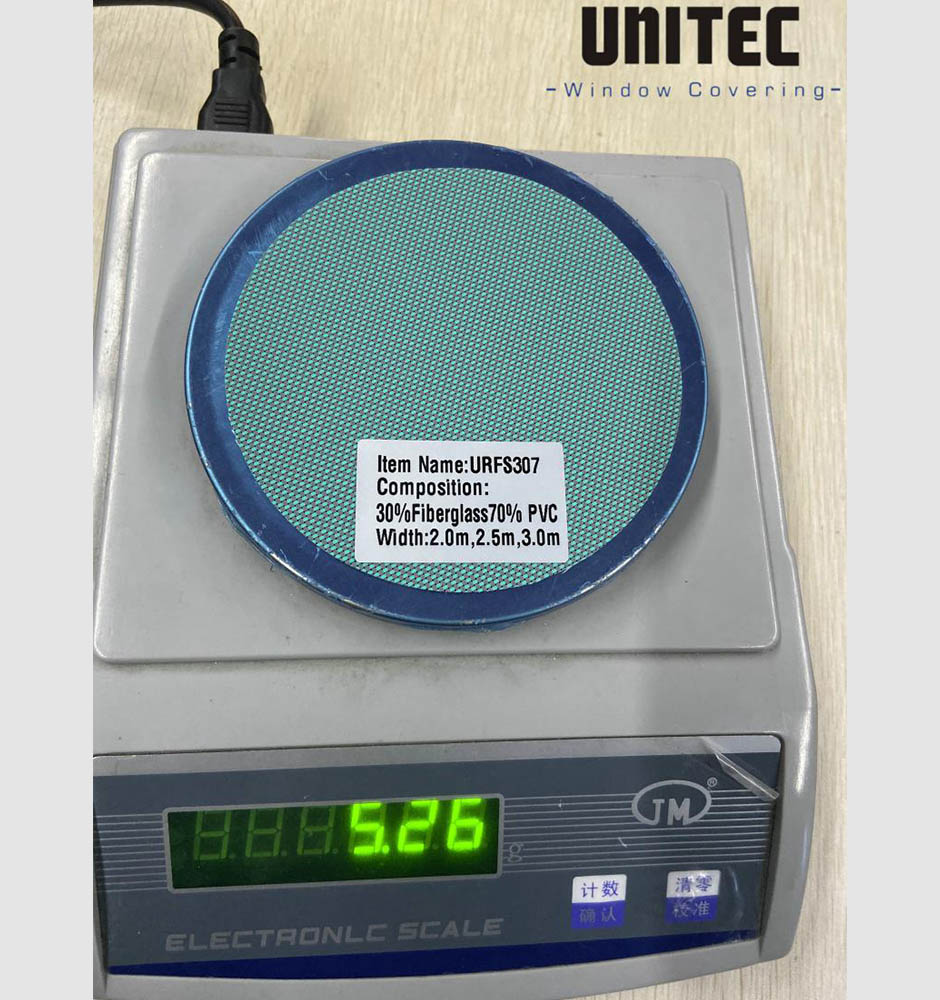 Inspection Report made by QC team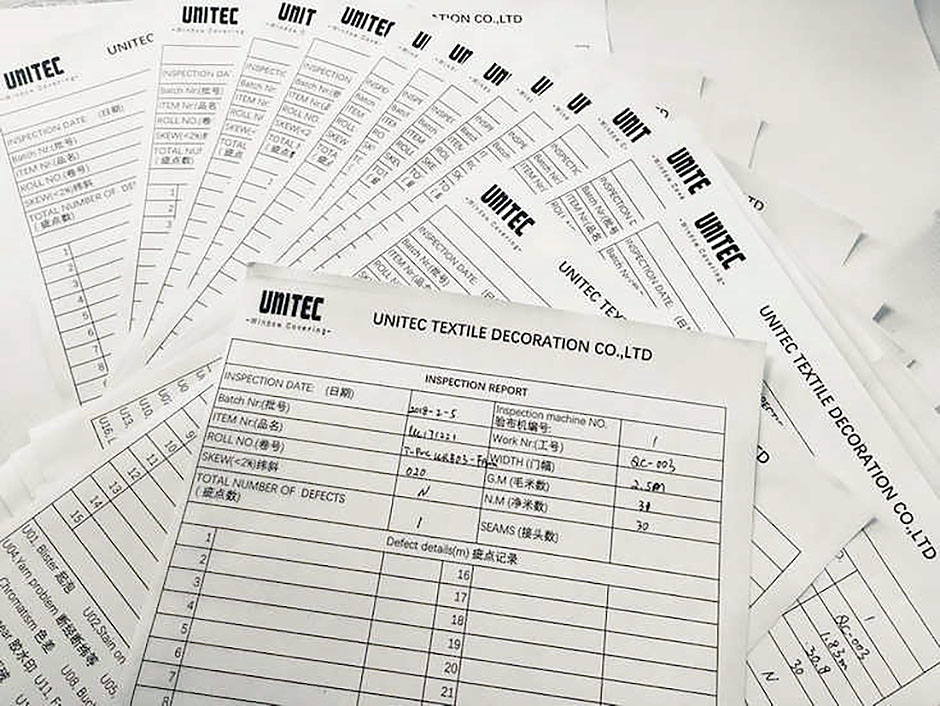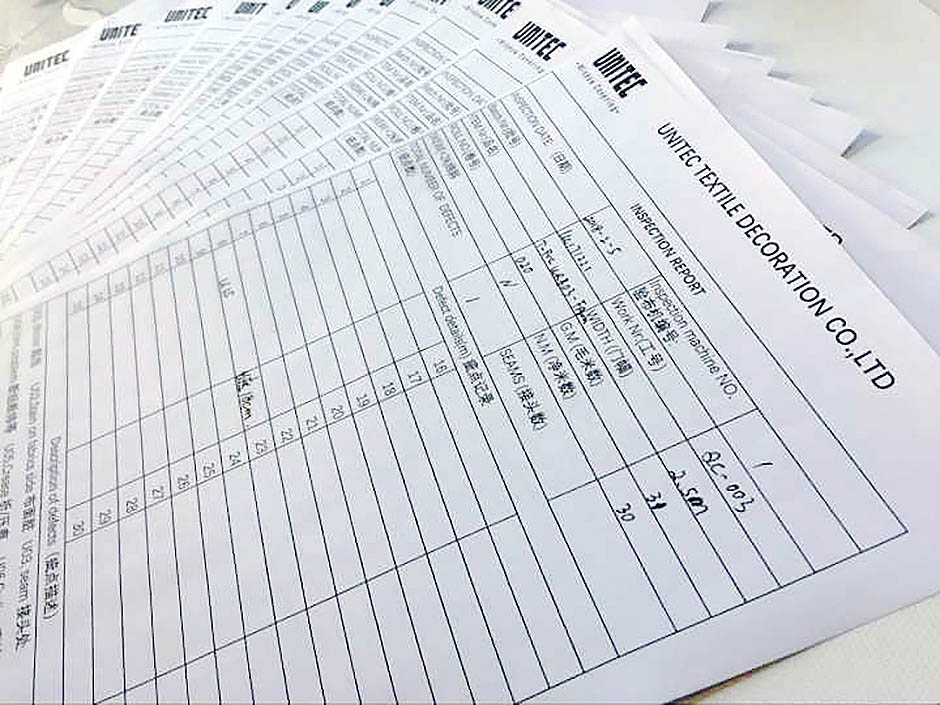 Warranty:
UNITEC has passed the certification of ISO9001-2008, SGS, CE, INTERTEK and a strict QC system including IQC (Income Quality Control), IPQC (In Process Quality Control), FQC(Final Quality Control) and QA (Quality Assurance). Our mission at UNITEC is to deliver the highest quality of roller blind fabrics, this is why we provide our customers with the security of quality warranty on all of the products. To protect you even further, UNITEC now offers one extra year warranty, in addition to the standard 4-year product warranty, on a selection of products to ensure continuous peace of mind. Don't miss out! Place your order to get the warranty now!