The cheapest outdoor zebra roller blind UNZ02-011
Product Detail
OVERVIEW
PACKING & SHIPPING
The cheapest outdoor zebra roller blind UNZ02 series series are made of 100% polyester fiber and presented by two opaque transparent straps. The cheapest zebra roller blind UNZ02 series is very suitable for family, office zebra roller blind, hotel zebra roller blind, airport zebra roller blind or any public place. More and more people use zebra roller blinds because it is very suitable for fashion and fashion. Reasonable price. It can beautify your house environment.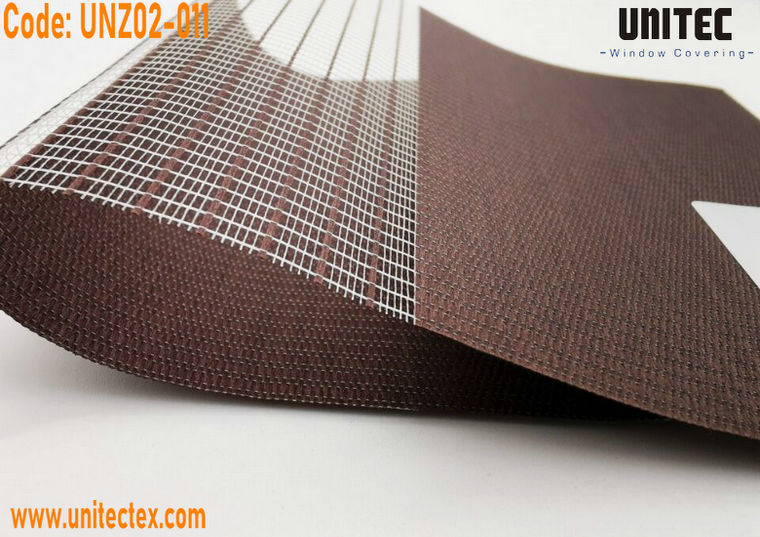 The cheapest outdoor zebra roller blind UNZ02 series now has more and more houses being bought and used by people, and their prices are more reasonable than other lightweight roller blinds. Gradually become one of the main decorative curtains. UNITEC guarantees that we can customize the quality and color of the required products. We have a professional production department and after-sales team, so customers have no worries.
The cheapest Zebra Roller Blind UNZ02 series provides many advantages for those who want to buy, whether it is for home or office:
Excellent thermal insulation performance:
Its ability to capture and retain heat between the two layers will help reduce energy costs. This is so because it has been proven that the temperature of the room is filtered through its opening. Therefore, with the cheapest zebra roller blind UNZ02 series, it will be able to better retain heat, prevent heat from entering, and reflect the light that makes you dizzy.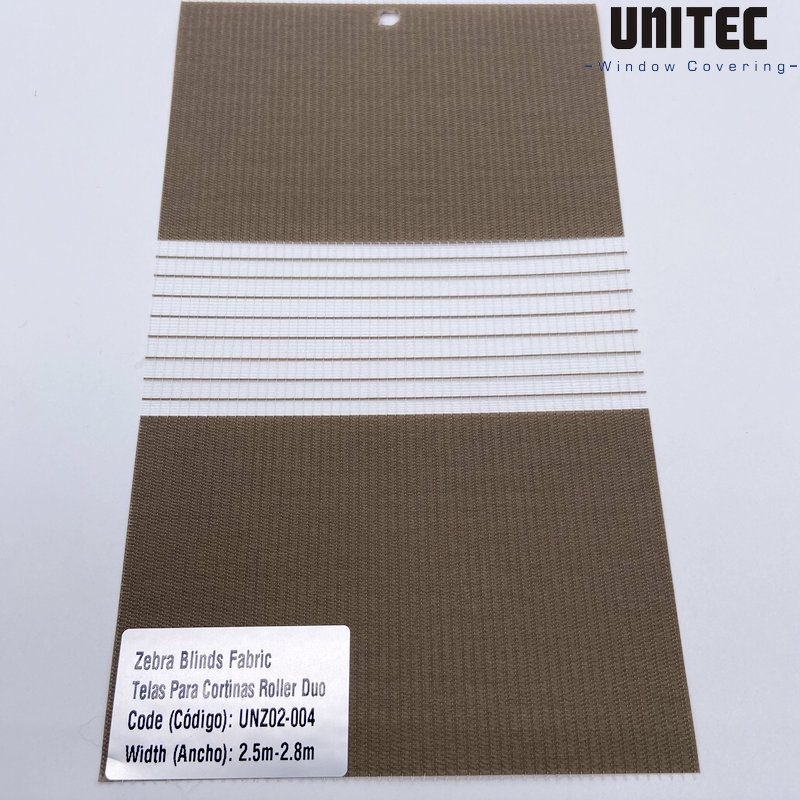 The aesthetics of The cheapest outdoor zebra roller blind UNZ02 series:
Its multiple designs make it a favorite choice for many interior decorators. It will not make your house look outdated. With The cheapest outdoor zebra roller blind UNZ02 series, you can bring unprecedented modernization to your room in the roller blind market. They strive to put themselves on the podium of the best shutter system. Let more and more people use them. Not only that, UNITEC's cheapest outdoor zebra roller blind UNZ02 series can also meet any of your needs, whether it is size, width, color or length, you can customize the product.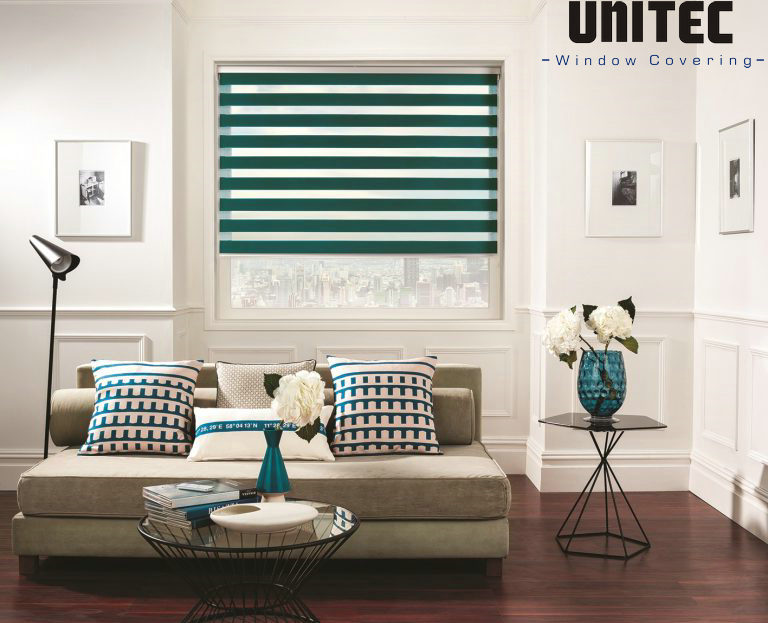 How do we develop new designs?
 From ideas to products, UNITEC can provide you with 6 new design fabrics every quarter.
Our design has passed market verification and adapts to market and trade development trends.
What is the packaging standard of The cheapest outdoor zebra roller blind UNZ02 series?
 The packaging standard is 50 rows per roll. The inner packaging is an inner tube and an outer tube with a plastic bag. The diameter of the outer tube is 18 cm. A 20-foot container can hold 260 rolls, and a 40-foot container can hold 580 rolls.
What if the product fails the test?
 1 Arrange copying (based on test results, focusing on quality inspection during production)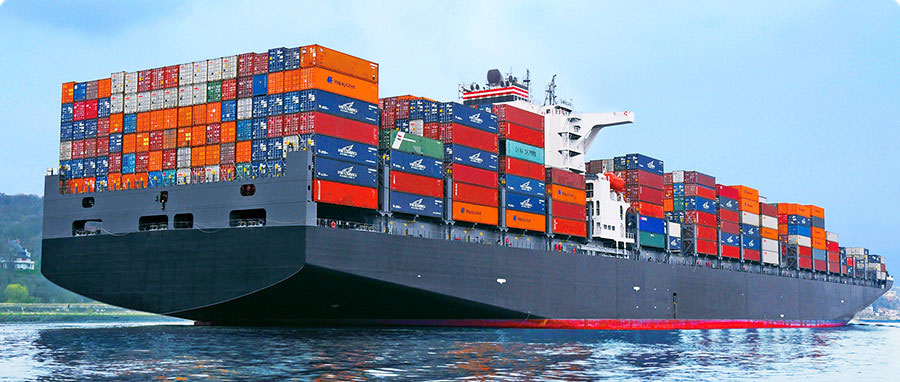 2 Fabrics that fail the test will be converted to domestic sales and sold to finished products factories.

at do we check before loading?
Quantity: We check the quantity of the entire order and perform random checks on the quantity of rolls.
Packing: We check if the packing is intact.
Label: We check whether the label is complete.
Measurement and function: We measure the width, quantity, etc. of rolls.
Color: We use a spectrometer to check the color.
Shading performance: We use strong light to test shading performance.
Flatness: We check the flatness of the fabric on the long table.
Skew and Cupping/Curl: We made a finished blind to test the performance of skew and cupping.
---
Previous:
2019 wholesale price Home Office Roller Blinds Fabric - Gray translucent polyester roller blinds UX004-TR – UNITEC
Next:
Professional China Hunter Douglas Roller Blinds Fabric - Flower pattern jacquard blackout roller blind – UNITEC
---
1. Parameters:
Application:Blackout roller blinds zebra,zebra roller blinds,zebra blinds
Technical Data:
•Composition (BO): 100% Polyester,
•Width: 2.0m-3.0m
•Light Fastness: 5-6 (Blue Scale) Tested to ISO 105-B02:2014
•Nominal thickness: 0.34mm (TR)
•Fire Classification: California U.S. Title 19 (small scale), NFPA 701-2010 TM#1 (small scale), BS 5867 2008 Part 2 Type B Performance.
2. Certification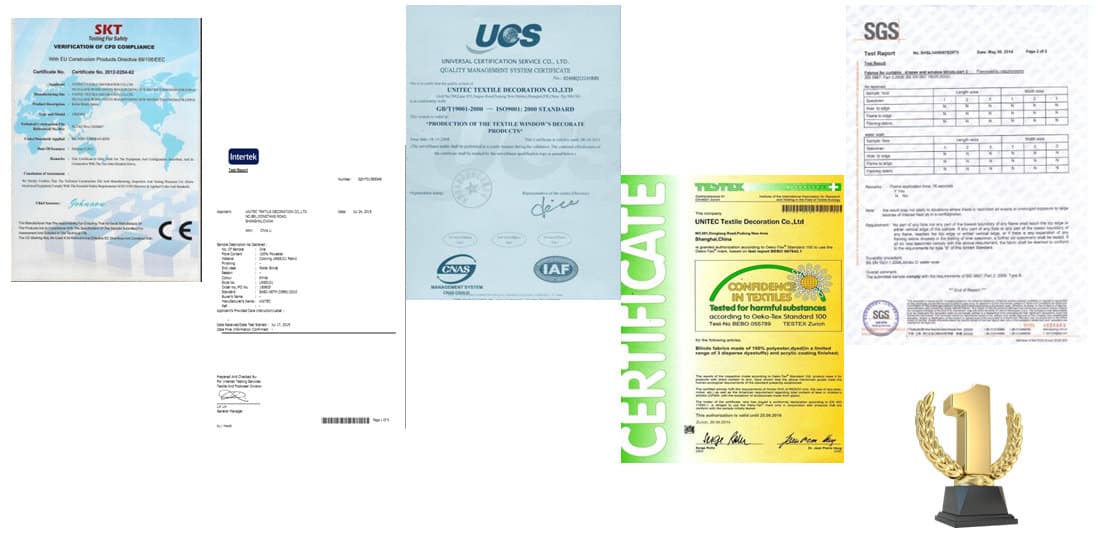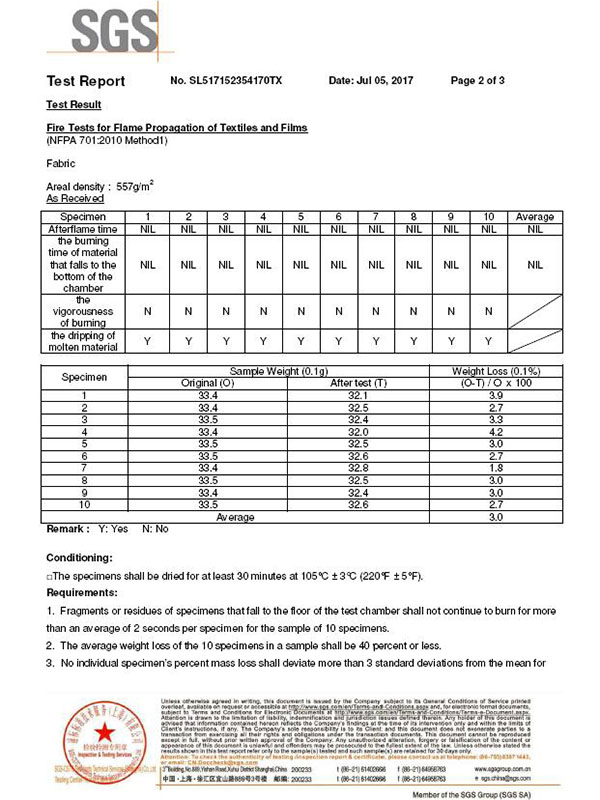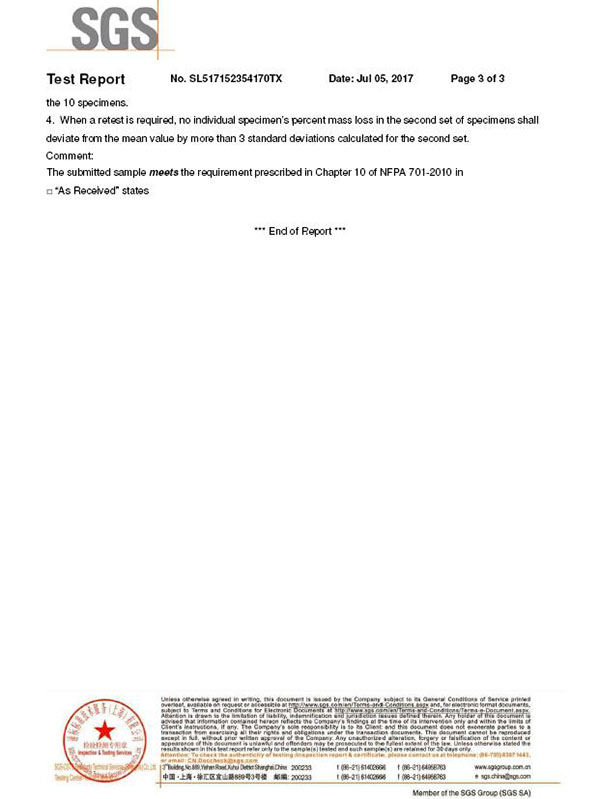 1. Packing:
Length per roll: 30m/30 yards
Inner packing: hardboard tube and kraft paper/ poly bag
Outer packing: hardboard tube and tube cover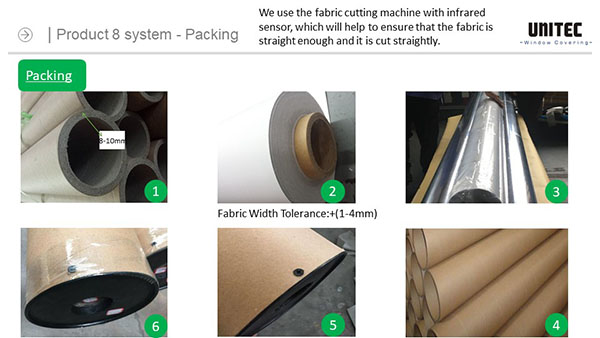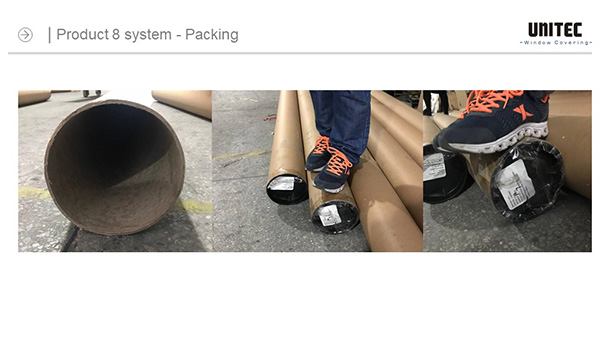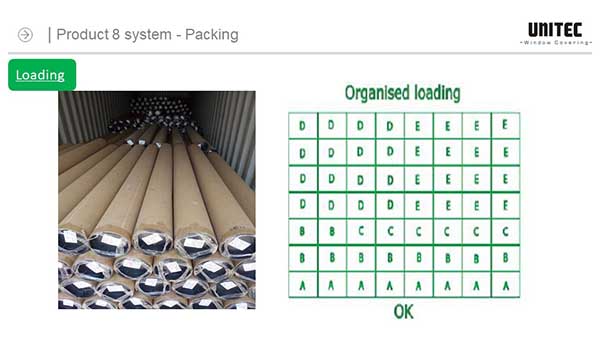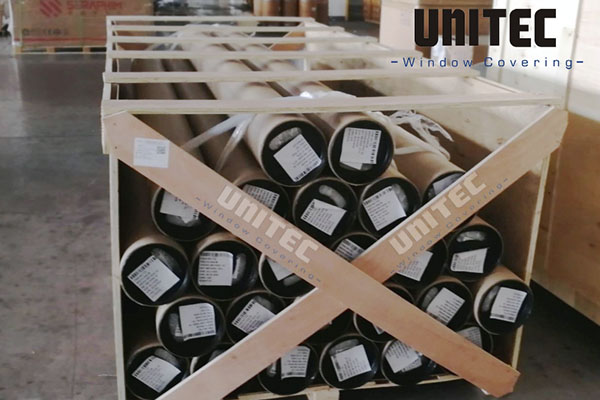 Container Loading: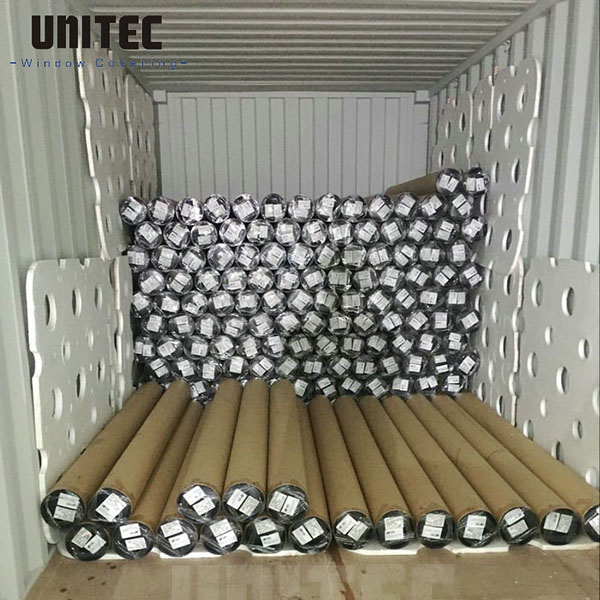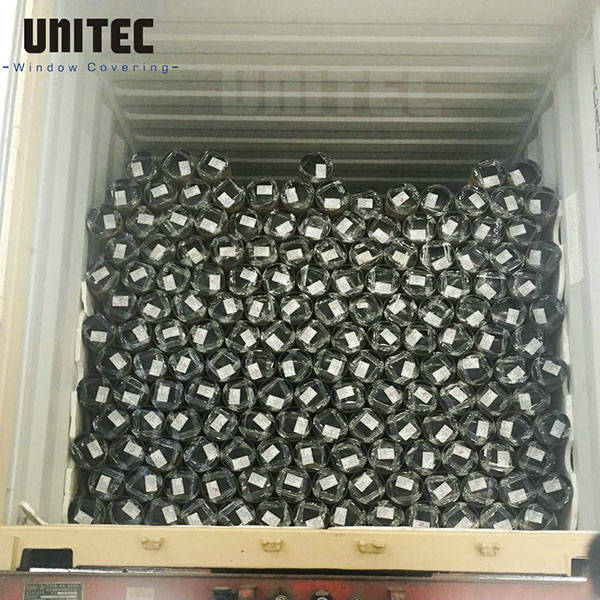 Shipping Method:
Air Shipment & Sea Shipment