Zebra blinds, Day & Night Blinds for home and office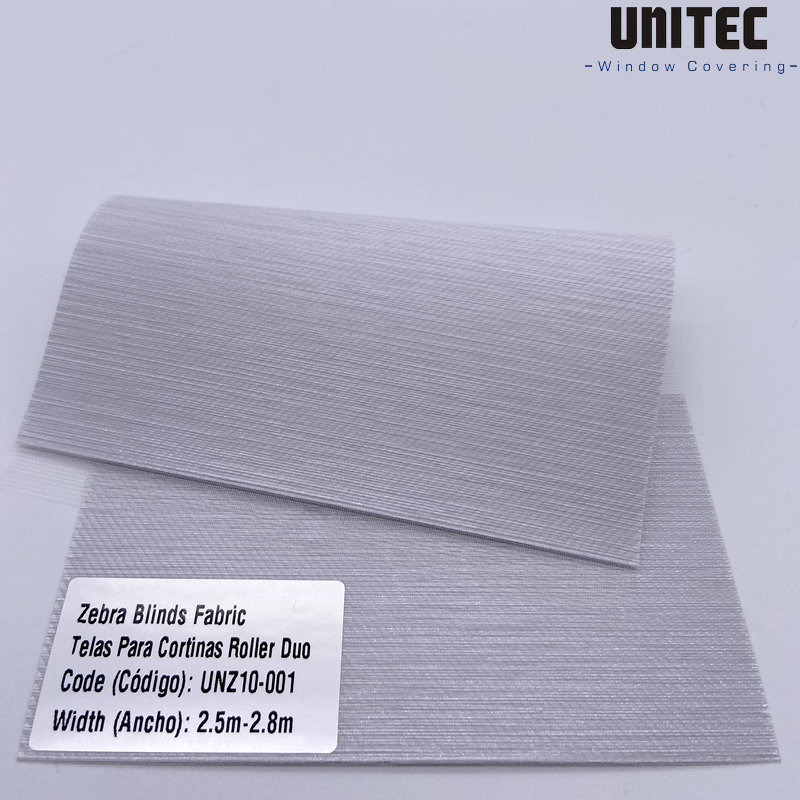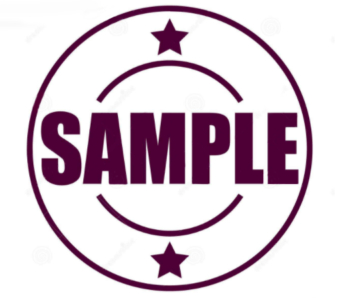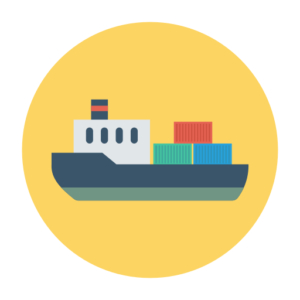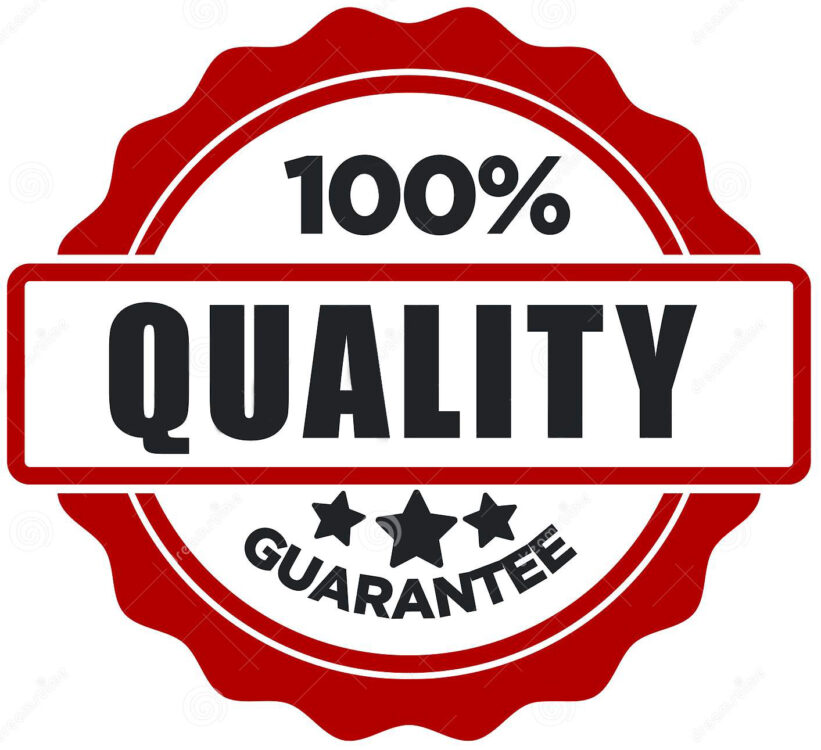 2-3 Years Quality Warranty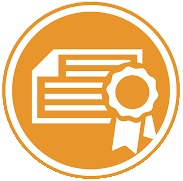 Roller zebra blinds, Light Filtering Zebra Shades, zebra Screen fabric, Light Filtering Sheer Shade, Roller Zebra Blind, Chicology Zebra Roller Shade, zebra sheer shades are designed to provide high-performing solutions to the sun's harsh rays. This sun control fabrics reduces solar heat gain, protects against damaging UV rays, and improves the comfort and privacy of any interior space when used in a roller shade application.
Technical Data Of Zebra blinds, Day & Night Blinds for home and office
Fabric name: Zebra Blind Fabric UNZ10
Code: UNZ10
Composition:100%Polyester
Application: Zebra blinds, Day & Night Blinds for home and office
Technical Data:
• Composition: 100% Polyester
• Light Fastness: 5-6 (Blue Scale) Tested to ISO 105-B02:2014
Features And Benefits Of Zebra blinds, Day & Night Blinds for home and office
These Zebra shades have stripes of Light Filtering Zebra Shades alternating with stripes of sheer fabric to provide the style of a sheer shade with the utility of a roller shade. Their unique zebra stripe design allows you to raise the shade for a fully open view or lower the shade and position the stripes to the amount of light and privacy you desire.
Production process of Zebra blinds, Day & Night Blinds for home and office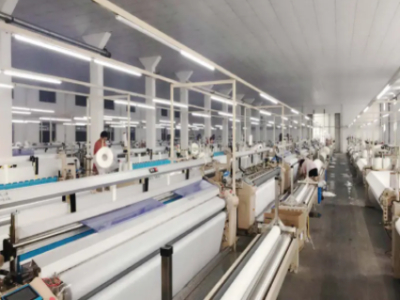 Regarding the raw materials, the Zebra blinds, Day & Night Blinds for home and office uses premium quality 100% polyester filaments. And the coating chemical uses Allnex (Nuplex Resins). Moreover, These raw materials are environmentally friendly and guaranteed without formaldehyde. We care more about the protection of the environment and people's health.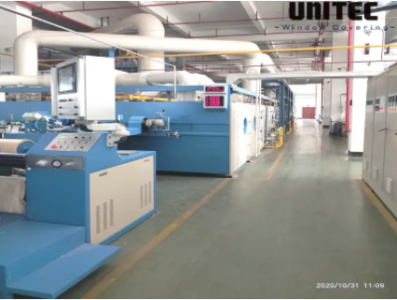 Our production line is imported from South Korea and customized exclusively. Therefore, our production efficiency is higher. In this way, we can produce high-quality products and save production costs.
Certification and Quality Warranty For Zebra blinds, Day & Night Blinds for home and office
All UNITEC products have a strict raw material control system, and we insist on using environmentally friendly raw materials to produce our products. At the same time, we will do a complete product certification before the product is put on the market. So, you can rest assured to choose our products.blackout blind fabric.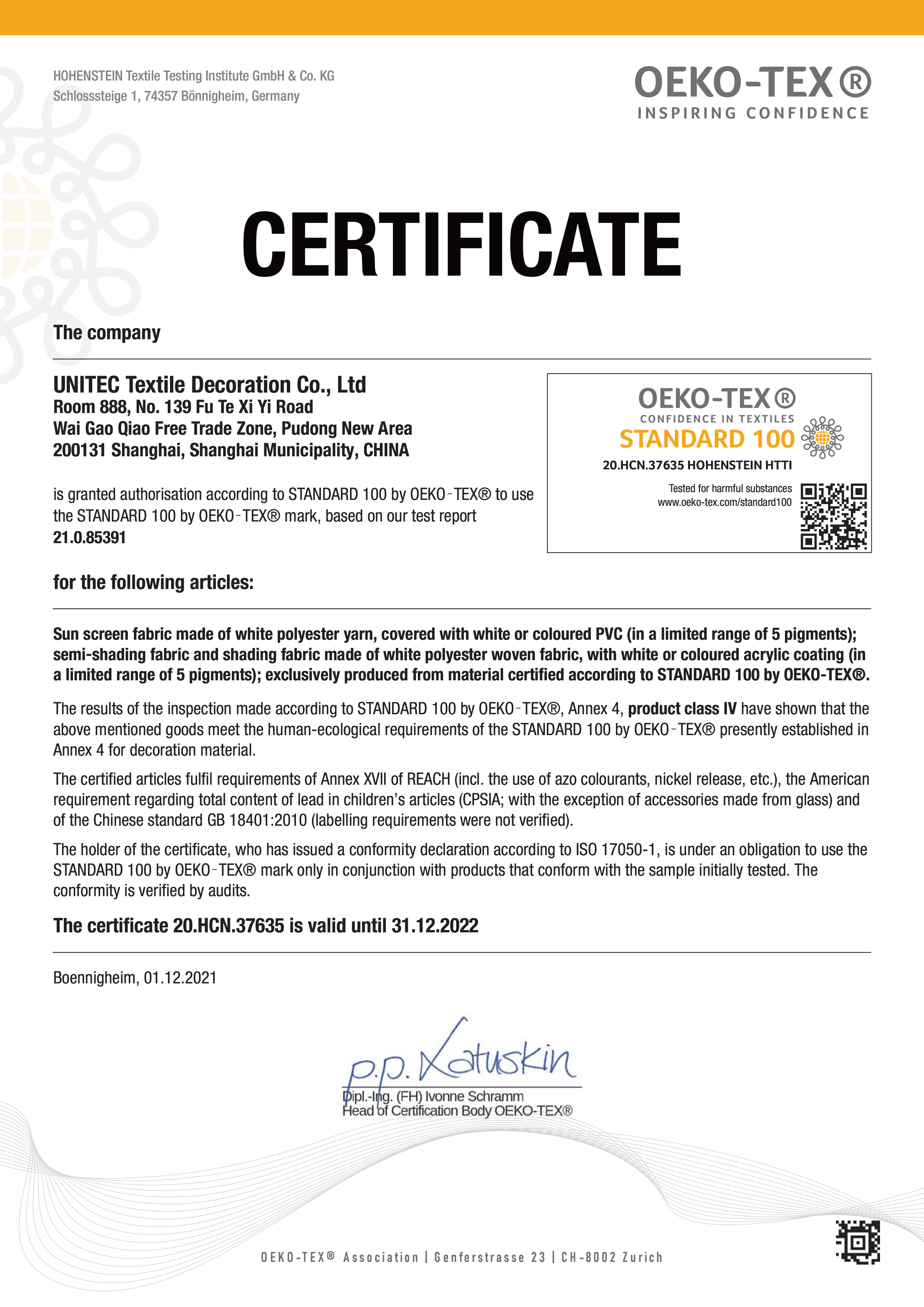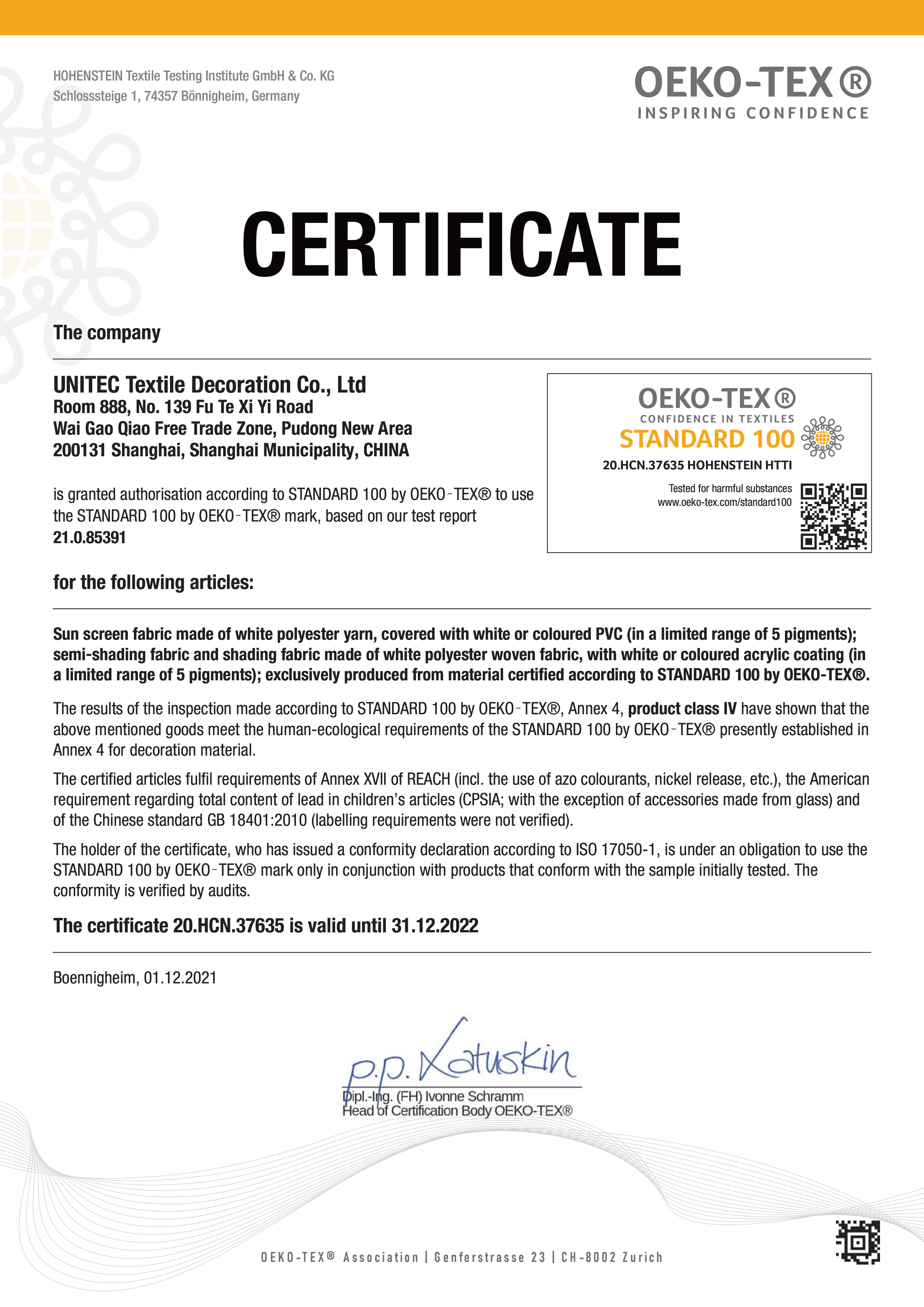 1.We have a strict and complete quality control system to ensure that all Blackout Fabric For Blinds, we produce meet high quality standards, IQC (Income Quality Control)-IPQC (In-Process Quality Control)-FQC (Final Quality Control)-QA (Quality Assurance); In addition to a strict and complete quality control system, we also have advanced production equipment and an experienced quality inspection team.
2.Our looms are imported from Germany and Italy, as well as some high-end textile machinery made in China. Our coating machine is imported from Korea, and it is an automated production line.
3.Our quality inspection team has been established for 19 years, and they are all personnel with extensive quality inspection experience and a rigorous working attitude.
We have a complete production management system ISO9001 and more than 20 years of production experience for efficient production processes. Therefore, our production capacity will be 10%-20% higher than that of our peers. Industry-leading development and production efficiency.
Strongest Process Innovation Industry-leading development and production efficiency. ISO 9001:2015 certified. No one knows more than we do about Blackout Fabric For Blinds design and performance. We have maintained and have immediate access to all our fabric developments since the company's inception in 2002.
We provide professional one-stop pre-sales, in-sales and after-sales services.
Pre-sales: Our production engineers, quality inspection team, warehouse management team and sales team will work together to provide you with professional pre-sales consulting services. Solve all your worry
On sale: All our teams will update the production progress and plan for you every week. And solve professional product problems for you.
After-sales: Our customer service team and sales team will serve you and keep track of your feedback after you receive the goods.
ATTRACTIVE COMPETITIVE PRICE
No middleman makes the difference. The same quality, welcome to compare prices. We use advanced production equipment and management system to reduce our production costs. In addition, we have also acquired 2 weaving factories in the last 2 years, and at the same time, we have also invested in a coating slurry factory. This makes our production cost lower and the quality more stable.
We are experts at lowering our customer's costs in fabric design, development, production and inventory.
---
---