Chinese Manufacturer UNITEC Fiberglass Pvc Roller Blinds Fabric
URB57 series are blackout roller blinds fabrics. These colors can meet the needs of a variety of decoration styles and is popular with consumers all over the world. The fabrics are free of PVC. The blackout coating emulsion is adopeted imported brand. It is none-formaldehyde.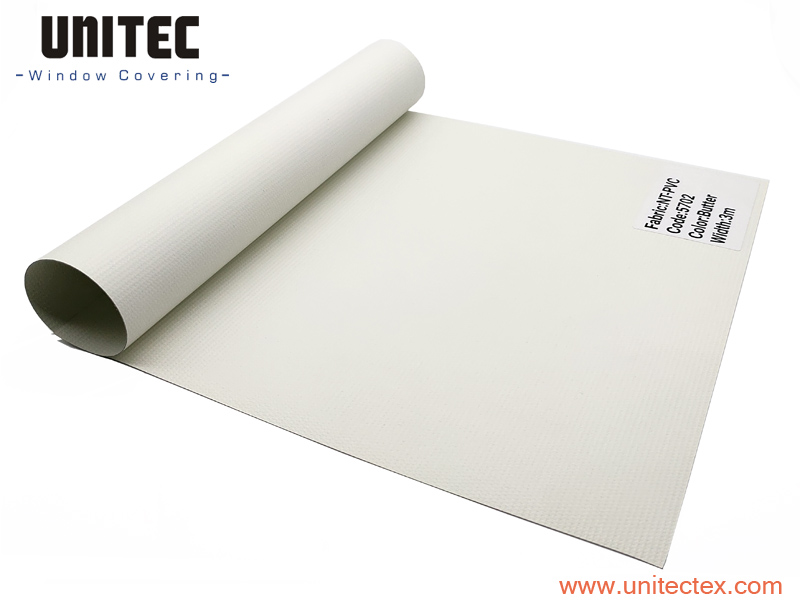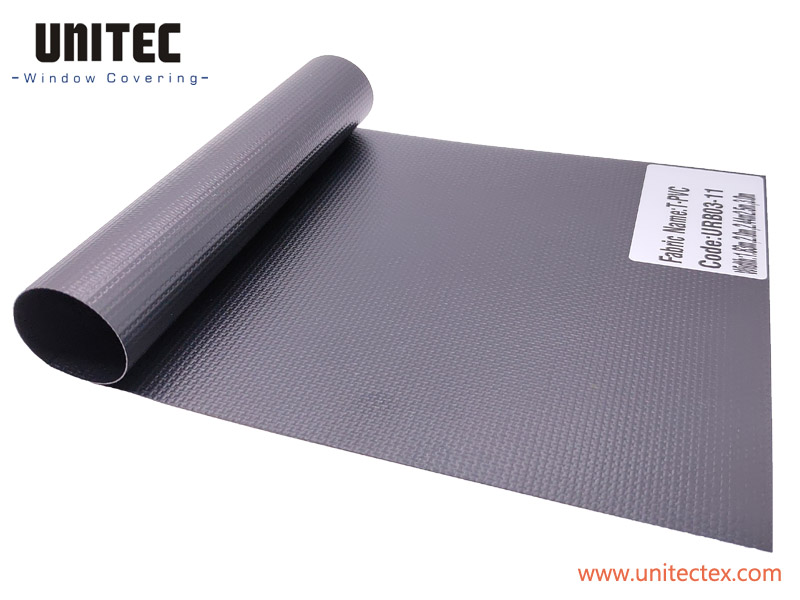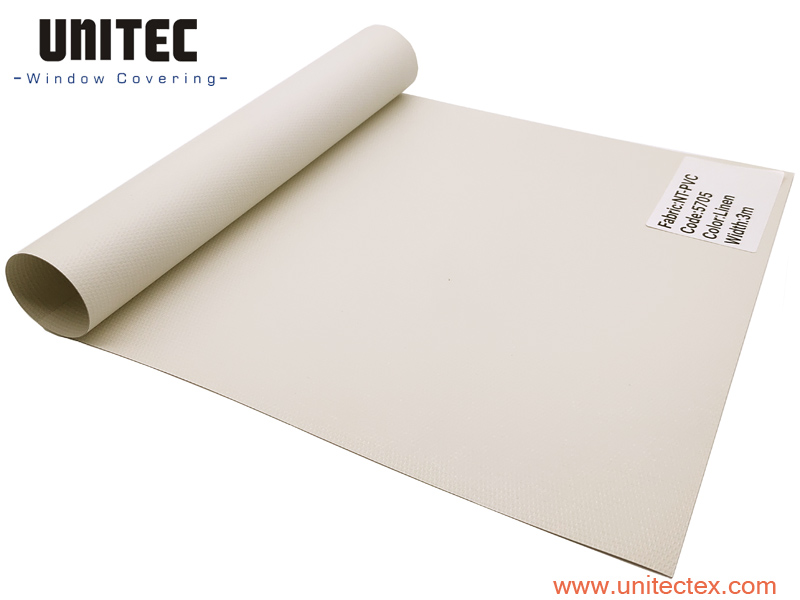 Popular Color Collection
We currently offer 11 popular colors in total, but we can customize any color.
Harmless
Blackout Roller Blinds Fabric URB5702 series are the PVC blackout roller fabric, which implies a minimum emission of VOC.
Unique Design
The back is silver/aluminium coate. The design of coating is more beautiful than white coating.
Eco-Friendly
High-Quality 100% Polyester with imported coating emulsion. None-formaldehyde.
High Quality Roller Blinds Fabric with Blackout Silver Back Coate URB4000 Series
The blackout PVC blinds fabric is a laminated PVC blackout fabric, Normally people named it as 4 ply vinyl blackout fabric. The composition is 1 ply fiberglass, 3 ply PVC. It can be used for roller blinds, vertical blinds, panel blinds and so on.
There are two types of blackout PVC blinds fabric, The fabric name are PVC and T-PVC. The main difference is the thickness and weight.
The thickness of PVC is 0.42mm and the weight is 550±5% (g/m2), so the fabric feels thicker and heavier. The thickness of T-PVC is 0.39mm and the weight is 440±5% (g/m2). So this fabric is lighter.
No matter which one you choose, their performance and functions are the same: fireproof, waterproof, antibacterial, free of heavy metals, free of lead, free of formaldehyde, etc.
Certification and Quality Warranty of Blackout Roller Blinds Fabric URB4000 series:
All UNITEC products have a strict raw material control system, and we insist on using environmentally friendly raw materials to produce our products. At the same time, we will do a complete product certification before the product is put on the market. So, you can rest assured to choose our products, Especially URB4000 series.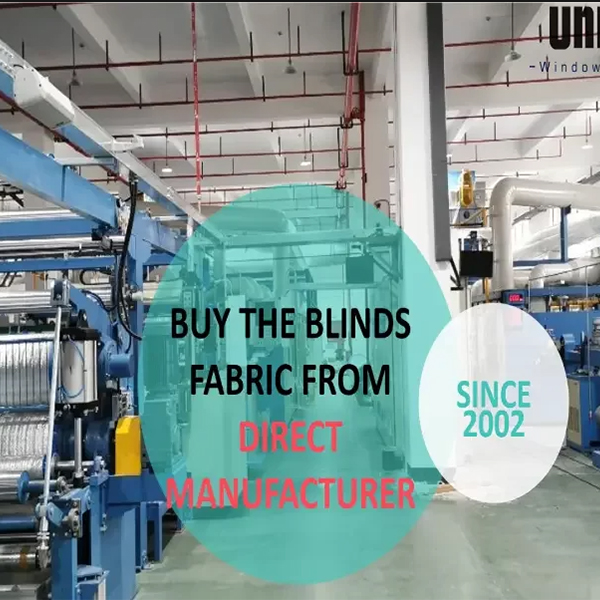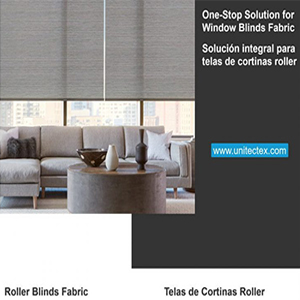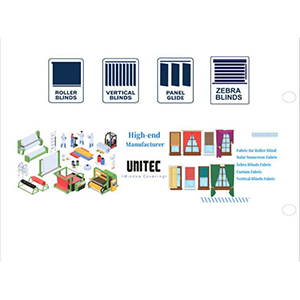 Trade Terms
MOQ:
1 roll (If in stock), 600M each color and width (if no stock)
DELIVERY TIME:
1-2 days (if in stock), 25 days for bulk production
PAYMENT TERM:
We offer a flexible payment term.
QUALITY GUARANTEE PERIOD:
5 Years
H2/H3:
Our Factory and Trade Terms
FAQs
What is the packaging standard?
Roll Length: 30m/roll
Packing: Polybag and Carton Tube
Port of Loading: Shanghai, China.
20'ft container volume: Approx 290 Rolls.
40'ft container volume: Approx 610 Rolls.
Customized labels and logos are available.
What do I do if I have the claim?
If there is a product quality problem, Our sales manager, customer support department, quality control department, and production department will serve you together. You will get a confirmation response within 12 hours; Within 24 hours, you will receive our investigation report; You will get a solution within 48 hours; Within 72 hours, you will see the results of our execution.
How to get a sample? How long can I get the samples?
We supply free A4 samples and the customer pays for the postage. Usually for 4-7 days.
How do I contact your company if my question isn't answered here?
All UNITEC Team can help you with different issues: Please see the details below:
Sales@unitectex.com (Business Inquiry & Sales Department),
Production@unitecblinds.com (Production Department),
QC@unitecblinds.com (Quality Control Department),
Customersupport@unitectex.com (Customer Support Department),
info@unitectex.com (General information processing Department)
What are the shipping options?
Sea, Airfreight, Train to European countries.
Are you a manufacturer or trading company?
UNITEC is a leading manufacturer of roller blinds fabrics, vertical blinds fabrics, sunscreen blinds fabrics, zebra blinds fabrics, Curtains Fabric, Zip track Blinds Fabric, and Pearl Soft Backlit Fabric since 2002. Welcome to visit our factory anytime.
How long is the lead time?
The normal lead time is 4 weeks.
100 Polyester Roller Blinds Fabric、Blackout Home Roller Blinds Fabric、Blackout Office Roller Blinds Fabric、Blackout Roller Blinds Fabric Home
---
---