What is a blackout roller blind?
The curtain black is a roller blind fabric black, which is characterized by completely preventing the passage of light. It is a composite fabric based on glass fiber, covered with high material PVC, specially designed to avoid ultraviolet rays. In turn, it plays the role of sound insulation and heat insulation.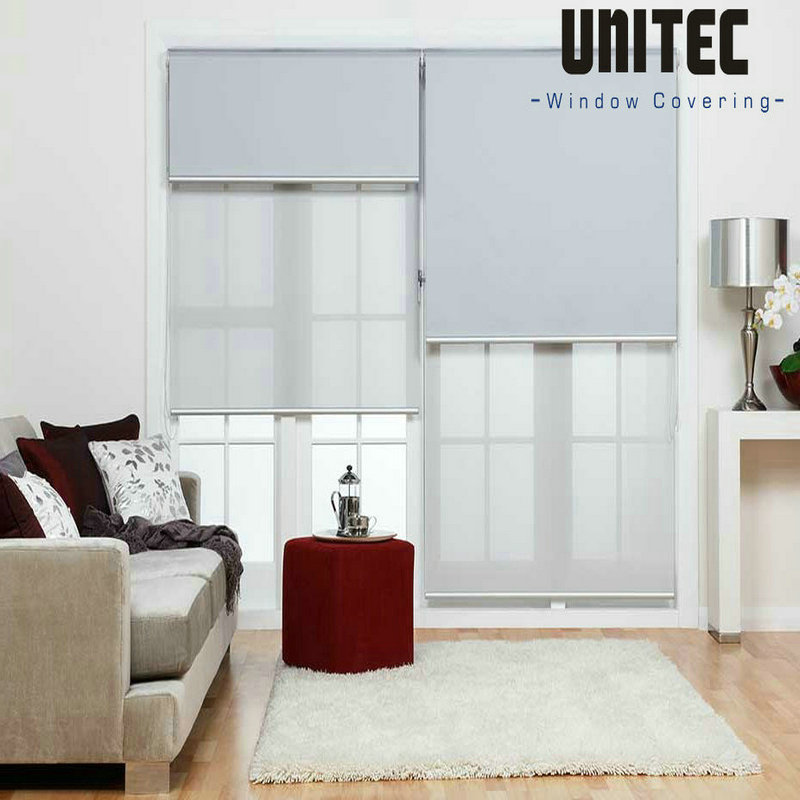 What are the benefits of PVC blackout roller blinds?
Their feature is to provide maximum privacy for any space, they can completely isolate the outside light, and are very strong. They are also easy to clean and install. Because its design allows the fabric to be rolled up and kept hidden, other advantages will not take up too much space. Its handling is very simple, because it can be done manually by pulling a chain, or it can be done automatically using a remote control that allows raising and lowering, and they can be motorized.
How to choose blackout roller blinds for my house?
You can use any of our blackout curtain models to decorate apartments, houses, offices, spaces. First, without ignoring the style to follow, define the type of natural lighting to be achieved for each environment. They are a good choice for entertainment venues that usually have digital screens. When you want natural light to enter one part of the day and 100% dim another day, the double-blind system is a good choice.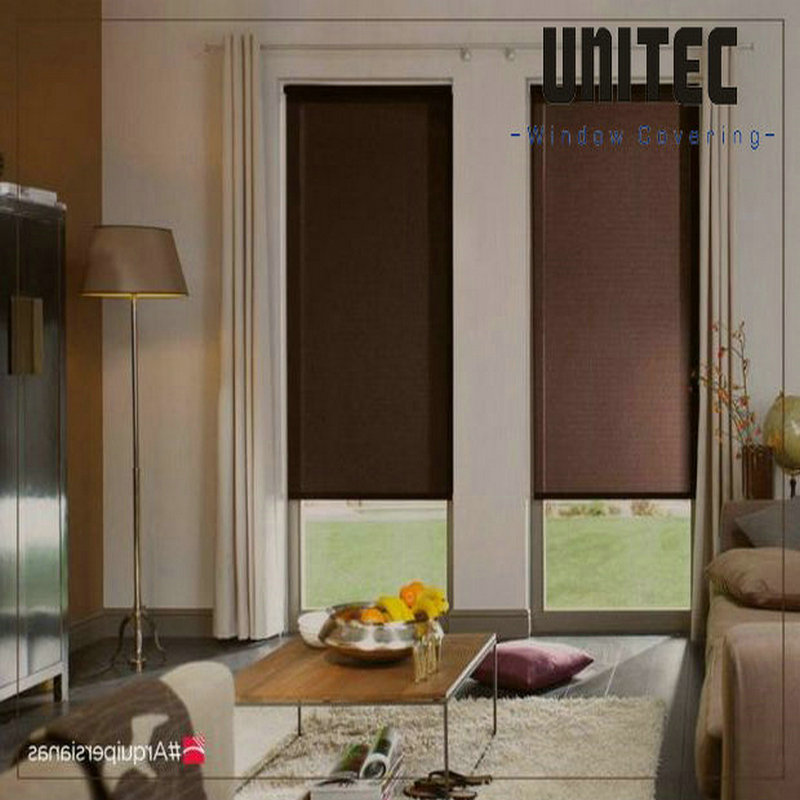 What color does the blackout roller blind have?
First of all, roller blinds have 4 different qualities. Each quality has a different color. UNITEC can customize colors
What is the best shade fabric?
Among our blackout roller blinds fabrics, the best quality is PVC blackout roller blinds and polyester blackout roller blinds.
What is the cheapest shade fabric?
In terms of quality and price, polyester blackout roller blinds are a good choice, the only feature is that it is only displayed in white. The second economical option is the URB81 series. It has dozens of colors to choose from.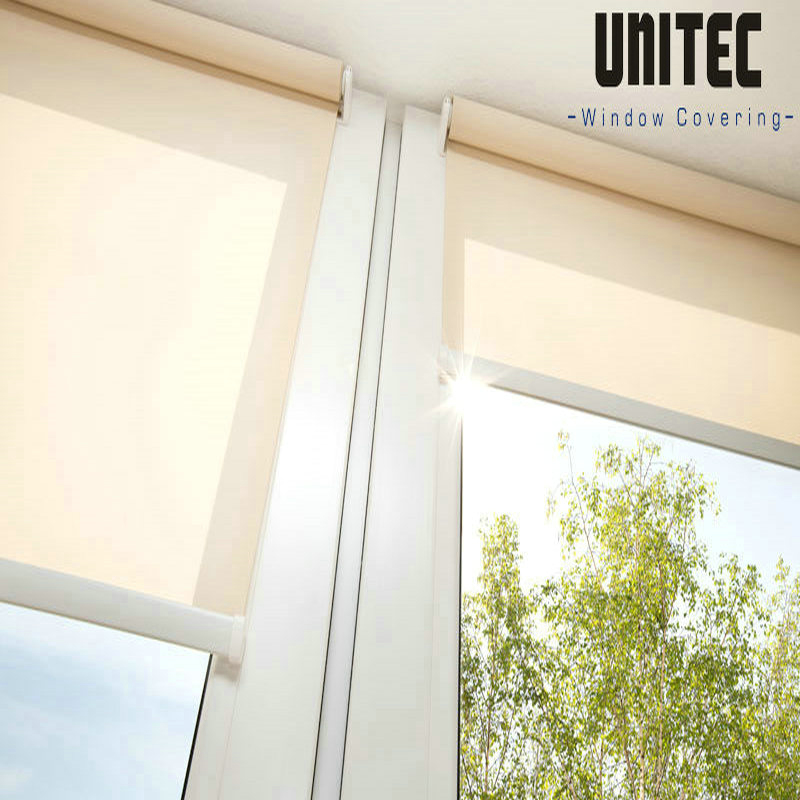 What are the advantages of sunscreen fabrics?
The sunscreen roller blinds fabric allows natural light to pass through without neglecting the vision. During the day, it provides privacy by blocking internal visibility. Its roller system makes it more practical and easy to use. They are also versatile because they can adapt to any environment, especially in modern decorations where large windows dominate. They can be combined with traditional curtains that combine different styles, or you can choose a double-layer roller blind system, which can use two fabrics with different characteristics to take advantage of their different properties.
What color does the sunscreen fabric have?
The available colors depend on the selected quality. Colors can also be customized.
What is the maximum width of the sunscreen fabric?
The maximum width is 3 meters.
How to clean sunscreen roller blinds fabrics?
Cleaning them is very simple, you can use a dry cloth or dust collector without rubbing too much.
What is the cheapest sunscreen fabric?
In terms of quality and price, UNITEC's URS30 series of sunscreen roller blinds fabrics are the easiest to obtain. If you need excellent quality in different colors, it is recommended to use high-quality sunscreens.
What is the best quality of sunscreen roller blinds fabric?
If you want high-quality fabrics, the premium version of sunscreen is the best choice.
Does the sunscreen fabric allow light to pass through?
Since it allows direct sunlight, you can coordinate the lighting of the space. It provides internal privacy only during the day, so that the outside has good visibility. Provide different porosity (1%, 3%, 5%, 10%)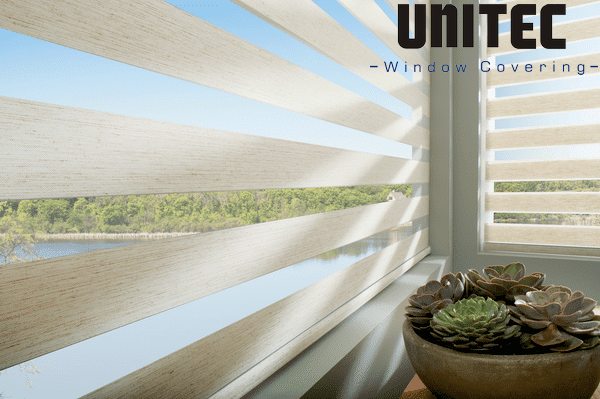 Benefits of Zebra Roller Blinds
Various brightness control
Zebra roller blinds have stripes, allowing you to have strong versatility in direct sunlight or blocking sunlight.
What are zebra blind/eclipse blind?
This type of curtain consists of a fabric composed of alternating opaque and translucent bands. These bands allow the control of light from the outside, thus achieving the dual effect of darkness and light (eclipse).
What color does the zebra roller blind have?
It is available in four popular colors: champagne, silver, wood and black. Colors can also be customized.
What is the maximum width of the duo fabric?
The maximum width is 3 meters
How to clean zebra roller blinds?
Cleaning is very simple, you can use a handheld vacuum cleaner or compressed air to remove dust without brushing your teeth. Do not use solvents or abrasive materials that can damage the fabric. If stains appear, please clean them with a sponge dipped in soap and water with neutral detergent or soap. Rinse with water to unfold the curtain and let it dry completely.
What are the benefits of zebra roller blind fabrics?
This type of curtain allows two lighting methods in a single system. The translucent strip allows light to pass through, while the colored strip partially blocks it. Provide good aesthetics and modernity for any environment.
Does the zebra roller blind allow light to pass through?
Yes, thanks to the translucent strip, it can let outside light pass through.
---
Post time: Mar-31-2021