Sunscreen zebra roller blinds are made of PVC and polyester yarns. They are widely used to block the harmful elements of bright sunlight and ultraviolet rays, and they have ideal effects in the field of shading. This is a universal solution for everyone who wants to enjoy the sun outdoors without exposing the risks of the sun. The innovative, breathable fabric will dissipate heat while cooling the area, thereby reducing the temperature by up to 15 degrees.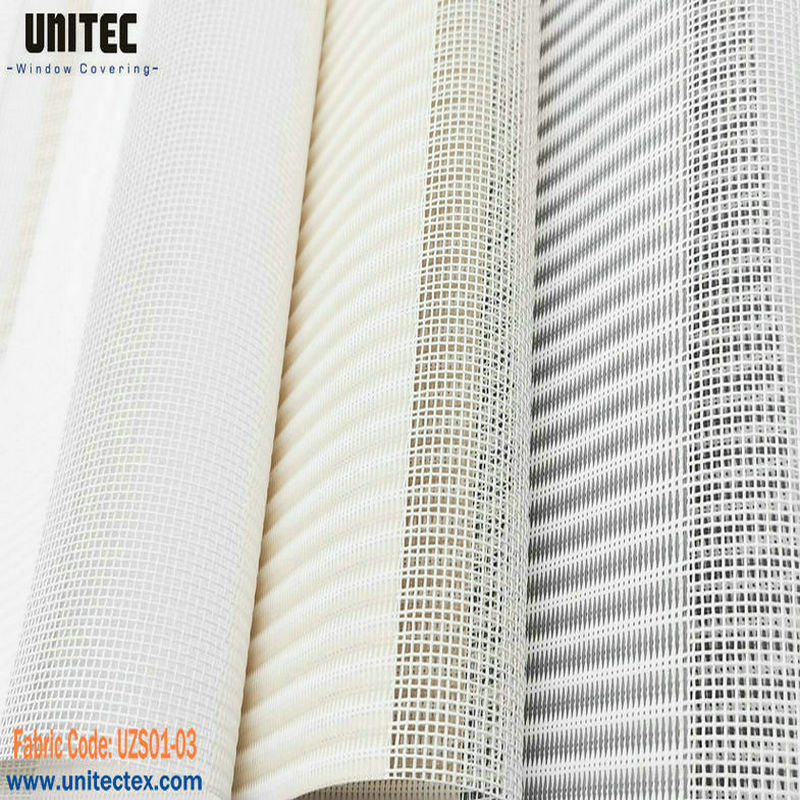 Sunscreen zebra roller blinds are widely used in indoor sunshade roller blinds, vertical blinds, various skylights, Roman blinds, decoration and partitions.
For different types of windows, the most effective method is to reduce indoor heat and glare. Sunscreen zebra roller blind fabric protects indoor furniture and makes the view comfortable. At the same time, it protects the interior design with individuality and elegance. Enhance privacy as needed. Ideal for terraces, play areas and pet fences.
Features of sunscreen zebra roller blinds:
100% new healthy green polyester PVC material (additive), using special thermal bonding and coating technology, makes our fabric odorless and beneficial to human health.
The use of high-strength fibers and low-shrinkage polyester fibers for industrial use makes the fabric tidy, compact, dimensionally stable, with edge bending problems, and will not deform or change shape.
The use of healthy PVC materials and additives can make the fabric soft, fire-resistant can be customized and reach 8 colors, and will not fade or change color.
The loom is imported, which makes the strips absolutely straight and perfect for the fabric, and the strips will not enter the fabric.
Strict quality control ensures a low defect rate, and every inch of fabric you buy is perfect.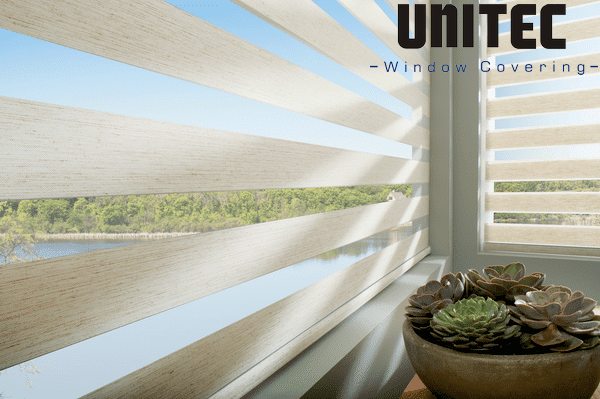 Frequently Asked Questions (FAQ)
 01). Are they a factory or a trading company?
We are an ISO 9001 certified factory manufacturer, we have been engaged in this business since 2001, and now we have 5 looms
02). What fabric do you make?
We can make:
1. Sunscreen roller blinds (opening 1%, 3%, 5%, 10%)
2. Glass fiber sunscreen (1%, 3% and 5%, etc.)
3. Zebra blinds
4. Other customized fabrics.
5. Plain weave roller blinds, blackout roller blinds
03). What color is your production fabric?
Usually white, beige, gray, brown, black or your favorite color. You can customize your color.
04). How many defects are in 1 roll (2.5m wide * 40m long)?
We have the strictest quality control. In our regular production series, each roll usually has 0 defects.
For customized series, we control the defects below 3.
05). Is it okay if I order a small quantity at one time?
We can start cooperation in a very flexible way. For the first trial order, you can only purchase multiple rolls when in stock. If there is no stock, the order is 1000 m/piece and width.
06). If I have my own design, quality and color, can I contract it for me?
Yes, we provide OEM services according to customer requirements.
07). Can you send us your samples?
Yes, we provide free A4 sample size.
---
Post time: Jan-14-2021